Saints Win Grinder in Garden
KSCB News - January 24, 2013 7:17 am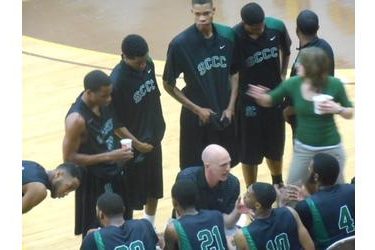 Seward head coach Bryan Zollinger says he prefers to win games scoring in the 80's and 90's. But the coach acknowledges that's not who his team is. The Saints won a grinding road game at Garden City's Perryman Center Wednesday night 58-49 for his fifth straight win and third consecutive win over the Broncbusters in Garden City. The Saints hold a team to under 50 points for a second straight game. Seward led by as many as 11 in the second half and had control of this game from start to finish leading by as many as eight in the first half. The Saints led 30-28 at the break.
Four Saints scored in double digits led by Jabari Peters who scored 13 while Kaheem Ransom added 12, Malcolm Hill-Bey had 11, and Edson Avila had 10 points and six rebounds. Leslee Smith had seven points and 11 rebounds. Liberal's Jade Cathey scored nine points and 13 rebounds. The Saints are 14-6 overall and 5-1 in the Jayhawk West trailing #1 Hutchinson by one game. Garden City falls to 10-11 overall and 2-5 in the Jayhawk West.
The Saints will be featured on Thursday night's Green Line at 6 p.m. on Talkradio 1270 and kscbnews.net. Seward hosts Butler for homecoming Saturday night at 8 p.m. on B107.5 and kscbnews.net. Pizza Hut is the buyout sponsor.
Butler def Cloud County 73-53*
D1#19 Barton def Colby 92-65*
D1#1 Hutchinson def Pratt 85-62*
D1RV Seward County def Garden City 58-49*