Saints Win First Conference Series
Brock Kappelmann - April 3, 2017 6:53 am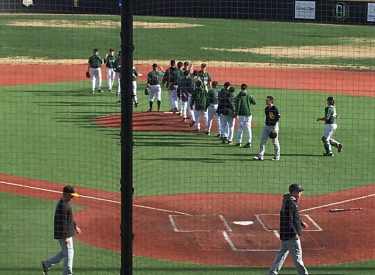 For the first time this season, the Seward baseball team wins a conference series.  Sunday in Hays, the Saints concluded their four game series with Cloud by splitting the double header.  The Thunderbirds won game one 7-1 and SCCC took game two 13-4.
In game one, Jared Biddy blasted his fourth homer of the season in the second.  Cloud scored four in the first and three in the sixth for the win.  Seward only had two hits.
In game two, Johnathan Castillo pitched 7 and 1/3 innings for the win.  Dominic Duran pitched 1 and 2/3 scoreless.  Seward scored three in the second as Jacob Nielsen laced an RBI double to left center.  Seward scored two more when a pick off play to third was thrown wildly by the Cloud pitcher.  The T-Birds scored in the second to make it 3-1.  Jared Biddy singled home a run in the fifth to make it 4-1.  Cloud loaded the bases with no outs in the fifth but only scored two runs as Seward used one of their three double plays to get out of the inning.  Brian Tims and Nielsen provided two out RBI singles in the seventh to turn a 4-3 game into a 6-3 game.  Seward added three in the eighth.  They scored on an error, an Addison Kaasch ground out, and a Biddy sac fly.  The Saints added four in the ninth.  Owen Martin singled home two.  Errett Edwards hit a sac fly and Biddy singled home another.  Biddy was 3-4 and drove home three.  Nielsen and Martin added three hits a piece.
Seward is 13-22 and 6-10 in the Jayhawk West.  Cloud is 17-19 and 7-13.  Seward plays a Frank Phillips Wednesday and hosts Buter Saturday and Sunday at 1.  The weekend games air on 1270 and kscbnews.net.