Saints Win Conference Volleyball Opener
Brock Kappelmann - August 26, 2021 11:33 am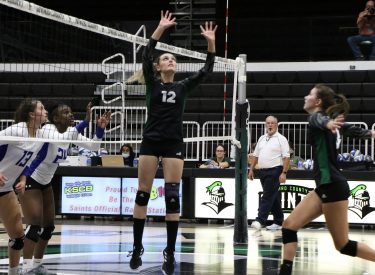 Kenny Hernandez
LIBERAL, Kan. – Seward County Community College earns their first conference victory with a 3-0 win over Pratt Community in the Greenhouse on Wednesday night. The Lady Saints won in straight sets with scores 25-22, 25-18, and 25-13. Seward County will head down to Ranger and Cisco, Texas for an invitational on Friday, September 3rd.
In the first set, the Lady Saints and the Beavers had eight ties and six lead changes before the set was decided. Seward County trailed 10-8 to the Beavers early in the first set but responded with a 6-0 run to lead 14-10. Pratt strung together a 4-1 run to tie the set at 20-20 and Head Coach Geno Frugoli used a timeout to get the Lady Saints back on track. Seward County closed out the first set with a 5-2 run to win the set 25-22.
The Beavers won the first three points of the second set as they looked to even the set scores. Seward County looked to come back once again early in the set and would tie Pratt at 10-10 later in the second set. The Lady Saints took their first lead of the set after a Berfin Mertcan kill in the middle and had a 13-12 advantage. After a 14 all tie Seward County closed out the second set on an 11-4 run to win the second set 25-18.
The Lady Saints looked comfortable in the third set and put the pedal to the metal. They jumped out to a 6-0 lead and forced Pratt to use a timeout early but the lead proved to be too much for the Beavers to respond. The Lady Saints went up 15-8 after Skylar Wyllie's kill from the middle hitter position. Seward County went on to win the set 25-13 and sweep the Beavers 3-0 in their first conference match.
Seward County was led by Ana Brangioni with 11 kills and 10 digs from the outside hitter position. Gabriela Badilla tallied nine kills and 15 digs while Sarah Cruz had seven kills as well.
The Lady Saints will face Vernon College in Cisco, Texas on September 3rd.