Saints Win 12th Straight
Brock Kappelmann - September 14, 2017 6:33 am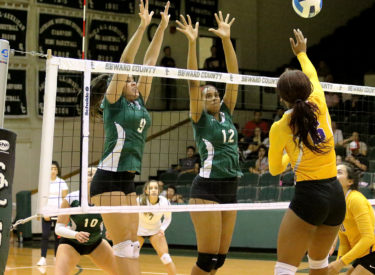 LIBERAL, Kan. – The No. 9 Lady Saints volleyball team was back in action Wednesday (Sep. 13) as they hosted Dodge City in the Greenhouse. The match ended with the Lady Saints picking up their 7th straight sweep, defeating the Conqs in consecutive sets, 25-13, 25-10, 25-16. As they Lady Saints continue their historic start to the season, they passed yet another mark, most consecutive wins by sweeps in the digital era (2004).
The Lady Saints (12-0, 4-0) started set one by gaining an early 6-2 advantage following two Viviane Viana kills. The Conqs (8-6, 1-3) fought back into the set, however, scoring six of the next nine points, narrowing Seward's lead to 9-8. The rest of the set belonged to the Lady Saints. Two blocks and two kills by Luz Sierra set Seward on a 16-5 run that was capped off by a Viana kill, giving the Lady Saints the victory, 25-13.
The start of set two showed by the Lady Saints are the No.9 ranked team in the country. Two Briana Domino kills helped spark an 8-1 run to start the set, with a Seward error being the only reason for the Conqs point. Unlike set one, the Lady Saints never let Dodge City back into it. The set included 16 kills, with five coming from Viana.
Set three would be the closest for the Lady Saints. The two teams traded points for the first 26 points. Down 12-14, Giovanna Tapigliani started a 4-0 run, the first three points coming from two kills and an ace by Tapigliani. Domino ended the run, giving the Lady Saints a two-point lead and momentum heading into the back end of the set. The Lady Saints finished the set and the match, by winning 9 of the last 10 points.
The Lady Saints were extremely efficient in the win, hitting .417 on the match. For the fifth match in a row, Tapigliani led the Lady Saints in kills. She ended the match hitting an impressive .692 connecting on 10 of her 13 attacks, with only one error.
Briana Domino led Seward's defensive stand, picking up 8 digs in the match. Nathiellen Machado and Tapigliani each had six digs. The Lady Saints acted as an impenetrable wall at the net, finishing the match with 10 blocks. Sierra led the Lady Saints with six.
The Lady Saints will have a day off before they travel to the College of Southern Nevada to participate in the Las Vegas Invite on Friday (Sep. 15) and Saturday (Sep. 16). The Lady Saints will face No. 8 Snow and New Mexico Military Institute on Friday before ending the weekend against No. 10 Salt Lake and No. 14 Utah State-Eastern on Saturday.
For more information on the Seward County volleyball team, visit SewardSaints.com.
[cid:image002.[email protected].6A61B530]
Ian Applegate