Saints Win 11th Straight Before Split
Brock Kappelmann - April 11, 2021 8:43 am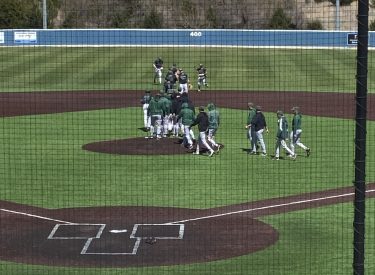 The Seward County Saints winning streak reached 11 games before a game two loss at Barton's Lawson-Biggs Field on Saturday afternoon.  The Saints were able to grind out a 4-2 win in game one but lost game two 9-6.  The Saints win their third straight Jayhawk West series.
Mason Martinez pitched the distance in game one.  Martinez struck out seven and walked one and beaned one.  Landon Anderson stayed hot lofting a home run to right center in the third for his third homer of the series.  Barton struck for two in the fourth for a  2-1 lead.  Anderson led off the fifth with a double and would score on a KP Werner RBI single to tie the game 2-2.  Seward broke the tie in the seventh.  Cody Bigford singled to lead off the seventh.  Werner walked.  Kase Johnson laid down a sac bunt.  Braden Boisvert beat out a double play attempt to drive home the lead run.  The Saints scored their fourth run thanks to a Cougar error.
Seward struggled throwing strikes in game two walking 10 and beaning two.  The Saints offense didn't have enough for the first time since a March 26 17-3 game one loss to Colby.  Barton scored one in the first before the Saints took a 2-1 lead in the third.  Braden Boisvert ripped a two RBI double to left center for the 2-1 lead.  The Cougars took the two runs right back with two in the bottom of the third to lead 3-2.  Barton scored three in the fourth to lead 6-2.  Richard Armijo tripled home a run in the sixth to make it 6-3.  The Cougars scored three in the sixth to make it 9-3.  Boisvert's three run homer to center made it 9-6.  Peter Goldy kept the team in the game on the mound with 2 and 1/3 scoreless innings.
Seward is 17-15 overall and 13-7 in the Jayhawk West.  Barton is 21-12 overall and 8-8 in the Jayhawk West.  Seward plays at Frank Phillips Tuesday.
Game 1 audio:
Game 2 audio: