Saints Upset Bid Falls Short
Brock Kappelmann - November 10, 2018 7:15 am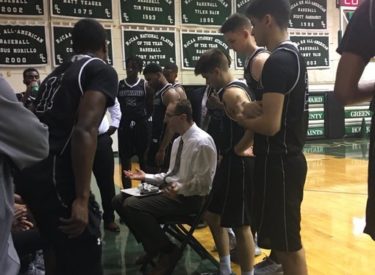 LIBERAL, Kan. – Looking to duplicate the upset from 2015, the Seward County men's basketball came up just short as a last second half court heave missed the mark and the No. 2 South Plains Texans came away with a 79-76 win.
The Saints proved early on that they wouldn't be bullied by the second ranked Texans as Isiah Small gave Seward an 8-5 lead four minutes into the game. South Plains took the lead just a few minutes later, but the Saints kept the game in-tact, creating offense from their defense. At the media timeout, score was knotted at 14 apiece.
However, the Texans came out firing after the break, hitting back-to-back threes to make it a six-point ball game. Just over a minutes later, the lead was pushed to nine with a pair of free throws. Seward kept with it, though, fighting back to make it a two-point game with two minutes left in the half at 31-29 with a Small dunk. South Plains used a 9-3 run over the next two minutes to enter halftime with a 40-32 lead.
South Plains extended their lead to ten points with a three pointer just one minute into the second half, but Seward once again battle back, cutting the deficit to three points with a Hegel Augustin three pointer. Each time the Saints were able to cut it to one possession, the Texans had an answer, specifically in the form of forward Gaige Prim.
After falling behind to double-digits again at the media timeout, Seward slowly starting to climb back into the game. Trailing 69-59 with seven minutes to play, the Saints used a 9-3 run to cut the Texan lead to four points. With just under two minutes to play, Small connected on a shot to make it a two-point game. Seward would have three possessions to try to tie or take the lead, but each shot came up short, including a layup attempt with four seconds left, that was blocked by Prim. After getting fouled, the Texans went 1-for-2 at the line, before Seward had one last attempt to heave the ball to tie the game, hitting the back iron and falling to the ground as the Texans won 79-76.
Needing to perform on offense, the Saints did just that, hitting 49.2 percent from the floor. The Texans shot 46.4 percent from the field and 35.7 percent from deep.
Small scored a career-high 27 points in the loss, going 11-for-16 from the field including a couple electrifying dunks. Montrevion Flowers (12 pts) and Hegel Augustin (11 pts) joined Small in double-figures.
Seward will finish the Pepsi Classic tomorrow night (Nov. 10) at 8:00 p.m. in the Greenhouse when they play Western Oklahoma State. The game airs on 1270 and kscbnews.net.