Saints Upset Bid Falls Short vs South Plains
Brock Kappelmann - December 29, 2019 8:39 am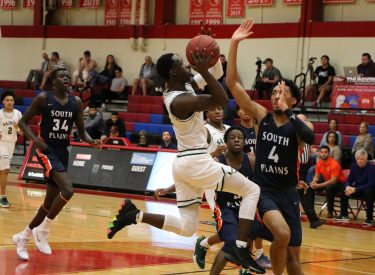 MESA, Ari.- Saints Men's basketball team loses to South Plains 62-58 in the semifinal round of the Fiesta Bowl Junior College Shootout. Seward County falls to 7-5 on the season and will face New Mexico Junior College in the third-place game tomorrow, with tip-off scheduled for 7 PM CT.
At the 1:10 mark in the second half, the Saints would trail 57-56 but would commit a foul on a three-point shooter to give the Texans the separation they would need to hold off Seward County.
The first half the Saints and the Texans would have five score ties and just 1 lead change. Seward County had the largest lead of the first half with 14:08 left, 10-4. With 3:16 left in the first half, South Plains would take a 25-23 lead with Jevonnie Scott's jump shot for the Texans. Saints would go scoreless in the final two minutes of the half to trail the Texans at halftime 29-25. Seward County shot just 41% from the field, and 20% from behind the three-point line.
South Plains would start the second half on a 9-2 run against the Saints to take 38-27 lead. Saints responded on a 15-5 run to regain the lead 47-45, with a mid-range jump shot by Rostyslav Novitskyi. Seward would trail late in the second half but would stay within one possession for the final five minutes. Saints Stephen Takyi would knock down two free-throws with 1:26 left to get Seward County down 57-56.
In the final minute, the Saints still trailed 59-56 but a three by Kyle Cardaci would come up short with 15 seconds left. Seward County would look to extend the game with fouls and free-throws but the Texans would knock down their free-throws to beat the Saints.
South Plains who improves to 9-4 on the season, were led by Rivaldo Soares with 12 points. The Texans Benjamin Bayela had nine points, and Junior Farquhar had a double-double with eight points and eight rebounds.
Saints were led by Branton McCrary with 16 points and four rebounds. Samuel Henderson also in double digits for Seward County with 11 points.