Saints Upset Bid Falls Short Against #9 Colby
Brock Kappelmann - December 7, 2021 6:23 am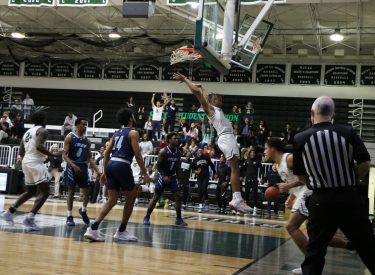 Kenny Hernandez
LIBERAL, Kan. – Seward County Community College falls to No. 9 Colby Community College 81-74 on Monday night in the Greenhouse. This game was a makeup game for the November 23rd originally scheduled date. The Saints are now 4-5 overall and 2-3 in conference play. Seward County will head to Garden City on Wednesday to take on the Broncbusters at 7:30 PM.
The Saints and the Trojans traded off baskets and stop early in-game Colby led 10-9. Seward County took a 12-10 lead after an Erik Pratt three-pointer. Ahamadou Sillah later gave the Saints a two-point lead 27-25 with a layup at the 1:20 left in the first half. After a basket by the Trojans Kevon Cooper responded in the final minute to give the Saints a 29-28 lead at the break. Cooper and Pratt led the team in scoring with nine points apiece.
In the second half, Taye Donald got an And-1 to give Seward County a 39-36 lead with 17:10 left in the contest. The Saints had a 43-36 lead but Seward County went cold from the field. The Trojans went on an 18-1 run to take a 54-44 lead with 11:20 remaining in the second half. The Saints looked to get back in the game late in the half with a pair of free throws by Malachi McReed put Seward County down 63-56. McReed got an outlet pass and scored a layup with 1:39 left to get the Saints down just 74-70. Seward County would play the foul game for the remainder of the game but could not break into the lead as Colby wins 81-74.
The Saints were led by Erik Pratt with 22 points, five rebounds, and six assists. McReed added 18 points, and Cooper had 14 points and 10 rebounds.
Seward County travels to Garden City on Wednesday to take on the Broncbusters.  It will air on 107.5 and the KSCB and The Legend App.