Saints Unable to Tame Tigers
Brock Kappelmann - August 31, 2023 6:35 am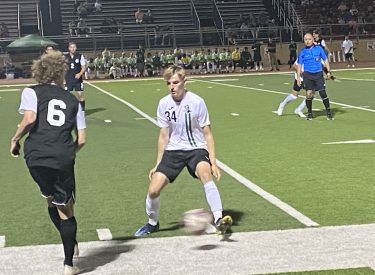 Jay Daubenberger
Liberal, KAN. – Wednesday night the Seward County men's soccer team faced their highest ranked opponent in program history as they took on #3 Cowley in their third of four straight home games where the Saints were unable to tame the Tigers as Seward County fell to the number three team in the NJCAA 1-0.
The first ever matchup between the Saints and Tigers started with both teams exchanging possessions early for the first ten minutes, fighting off multiple shots from Cowley until the Tigers were able to finally sneak in their only goal of the game halfway through the first half. Seward County fought down the field and Freddie Walker took a shot on goal to tie up the game but was unable to connect, sending the Saints into halftime down 1-0 against Cowley.
The second half was full of physicality from both sides with fouls being called frequently and multiple yellow cards being handed out against the two teams. Both sides held their own with Cowley trying to increase their lead and the Saints attempting to tie things back up. The Tigers came down the field with ferocity and attempted multiple shots on goal to try and grow their lead, but goalkeeper Bruno Mestres refused to let it happen as he recorded multiple crucial saves in the second half to keep the Tigers lead at 1-0, including back-to-back saves within a ten second period. Despite the Saints late run towards the goal to try and tie up the game and force overtime, Seward County was unable to capitalize, and the Tigers took the game 1-0 over the Saints.
Walker was the only player for the Saints to attempt a shot on goal while Leandro Suarez and Zain Beg were also able to each get a shot off. Mestres held Cowley to only one goal while recording four crucial saves for Seward County.
The Saints will return to action tomorrow night at Redskin Field to wrap up their four game homestead against Lamar at 7:30 PM before hitting the road for five straight away games.