Saints Tied For First After Day Two of Nationals
Joe Denoyer - May 16, 2018 11:07 am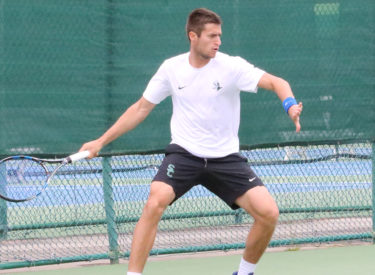 PLANO, Texas – After all players received an opening round bye, the Seward County Men's Tennis team went a perfect 9-0 in day two at the NJCAA Division I National Tournament in Plano, Texas.
Nick Roussett got the tournament started for the Saints, taking down Sebastian Osorio of Copiah-Lincoln 6-2, 6-3.  With the win, Roussett advances to the quarterfinals for a match against Juan Cruz Scoppetta of Laredo.
The No. 2 seeded Duro Opacic didn't miss a beat in the No. 2 singles draw, defeating Emanuel Mallya of New Mexico Military 6-1, 6-1.  Opacic will face Gergo Rendek of Mesa on Wednesday's quarterfinals.
Hugo Lobo kept the wins rolling in the No. 3 singles draw, defeating Isaiah Polk of Marion 6-1, 6-2.  Lobo will take on Iowa Central's Colten Way in the quarterfinals.
Tim Lamare cruised past Mesa's Yohann Prinsen for a 6-1, 6-2 victory in the second round of the tournament.  He will face Jayhawk Conference foe Wlayimer Jimenez of Cowley in the quarterfinals.
Carlo Izurieta lost only two games in his match in the No. 5 singles draw, beating Harford's Juan Naranjo 6-1, 6-1.  The No.2 seeded Izurieta will play Eastern Florida State's Milan Savic in the quarterfinals.
Franck Soulerot had the toughest singles match of the day for the Saints, winning a close 7-5 first set, before running away in the second 6-1 over Diego Cruz-Vespa of Laredo.  Soulerot will face Iowa Central's Steven Mears in the quarterfinals.
The winning continued into doubles plays, as Lobo and Roussett took down Travel Bell and Austin Vos of Mississippi Gulf Coast in a hard fought 7-5, 6-7 (2), 6-3 win to advance to the quarterfinals of the No. 1 doubles draw where they will play Manuel Pilotto and Juan Cruz Scoppetta of Laredo.
Tim Lamare and Duro Opacic had an easy go of things in the No. 2 doubles draw, rolling past Jacksonville's Francisco Perez and Tomas Torres 6-2, 6-2.  The duo will face Seminole State's Guilherme Dos Santos and Diego Orduz in the quarterfinals.
Finally, Benji Finet and Carlo Izurieta wrapped up day two with a 6-1, 6-2 victory over Beau Boyer and Chris McDaniels of Pima.  The tandem will take on Collin's Zach Frisbie and Thompson Tong in the quarterfinals.
After two days of actions, Seward is tied for first place with ASA Miami and Tyler, as all three teams have 27 points.  Fellow Jayhawk Conference teams Cowley (23.5 pts) and Barton (11.5 pts) sit in 5th and 14th place, respectively.