Saints Tennis Takes 3rd at NJCAA Tournament
Brock Kappelmann - May 25, 2021 4:09 pm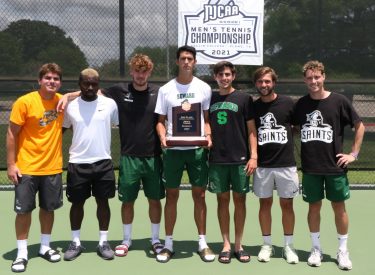 Kenny Hernandez
PLANO, Tex. – Seward County Community College finished third at the NJCAA Men's Tennis National Tournament. The Saints entered the final day of competition with four championship matches and came up short in all four matches. Cowley College won three matches on the day to jump over Seward County to claim the National Runner-Up trophy and Tyler Junior College clinched the National Championship for the third straight year.
To start the day the Saints had 37 total points and the Tigers had 36 points with four matches to go for both teams. Enzo Frequelin started the day off for Seward County in the number six singles draw championship against Tyler Junior College. Frequelin fell behind early and lost the first set 2-6, and lost the second set 1-6.
Jaun Gonzalez competed in the number four singles championship match but fell in straight sets to Tyler Junior College 1-6, 2-6. Gonzalez claims the runner-up for his draw with a spectacular tournament performance.
Martins Abamu faced off against Cowley College for the number five singles draw championship match. The first set went into a tiebreaker and the Tigers won the first set to gain the advantage. The second set went to Cowley as well with a 0-6 final and Abamu claimed the runner-up title in the draw.
Kyllian Savary and Enzo Frequelin were the last match of the day for the Saints as they competed in the championship match of the number two doubles draw against TJC. Savary and Frequelin fought in both sets but came up short 5-7, 5-7 to claim runner-ups of the draw.
With the four losses on the day the Cowley Tigers jumped over the Saints in the standings. The Tigers defeated TJC in the number two singles draw and again later in the number one doubles draw to claim the National Runner-Up title with 39 points. The Saints ended the tournament with 37 points, and TJC won the National Championship with 48 points.