Saints Tennis Sets Record for Wins in a Season
KSCB News - April 10, 2015 12:37 pm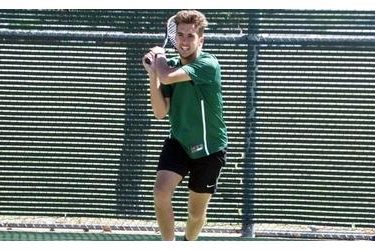 It has been a record breaking year for the 3rd ranked Seward County Saints in 2015 and Thursday at home on the Campus Tennis Courts, they set another all-time mark, picking up their 9th win of the season in a 9-0 drubbing of visiting Hesston, marking the most wins in a single season in school history.
Seward jumped out strong against Hesston Thursday afternoon in Liberal, hammering the Larks in all three doubles matches. Ronzai Saurombe and Vitor Galvao won 8-1 at #1 doubles while Felipe Casares and Alvaro Regnifo did the same at #2 to give the Saints a 2-0 lead in the match. The most lopsided match though came at #3 where Tare Mariga and Paul Arslanian needed just 22 minutes to win 8-0 to give the Saints a clean sweep in doubles action.
As singles play got underway, it was quite obvious that the Saints domination was set to continue. Saurombe picked up a 6-0, 6-3 win at #1 while Galvao defeated Eric Cender 6-2, 6-0 at #2 to seal the match for Seward. Regnifo was a 6-1, 6-0 winner at #3 for Seward and Casares defended his #31 national ranking with a 6-2, 6-1 victory at #4. The Saints top two point getters this season, Tare Mariga and Paul Arslanian each improved to 9-1 on the season at #5 and #6 singles, earning 6-1, 6-1 and 6-0, 6-0 victories respectively at the bottom of the lineup to complete the 9-0 sweep.
Seward improves to 9-3 on the season and their 9 wins sets an all-time mark in Saints Tennis history. Individually the Saints are now 80-28 in their 2015 matches and will take that record into the NJCAA Region VI Championships in Arkansas City on Friday, April 24th.
#3 SEWARD COUNTY/HESSTON MATCH RESULTS<http://www.sewardsaints.com/sports/mten/2014-15/files/SewardHesstonM.pdf>
Roy Allen
The 14th ranked Seward County Lady Saints will have some momentum going into the upcoming NJCAA Region VI Tournament after blanking the visiting Hesston Larks 9-0 in their 2015 regular season finale Thursday afternoon at Blue Bonnet Park in Liberal.
The Lady Saints and Larks kicked things off with doubles play and it was a whitewashing in favor of Seward. In #1 doubles, 2nd ranked Paula Lopez and Paula Coyos put on one of the most dominating performances you will ever see, losing just a single point in an 8-0 shutout win. Kellyn Peters and Xochitl Gonzalez followed suit at #2, winning easily 8-2 to put the Lady Saints up 2-0 and Naomie Bukassa and Grace Golden earned themselves an 8-1 win at #3 doubles to give Seward the 3-0 sweep in pair play.
It was more of the same if not even more dominant for Seward County in singles action where Lopez, Coyos, and Peters all won 6-0, 6-0 in the top three spots of the lineup to clinch the match win for the Lady Saints. Bukassa put together her most complete match of the year at #4 singles, downing Adrienne Derstine 6-1, 6-0 while Gonzalez won 6-2, 6-1 in straight sets at #5 and Golden picked up her fourth win of the season with a 6-1, 6-3 victory at #6 to complete the 9-0 sweep for the Lady Saints.
Seward finishes the regular season 5-7 overall and evens their individual match record at 54-54 for the 2015 season.
Next up for the Lady Saints will be a two week layoff before hitting the courts once again on April 24th when they head to Arkansas City to compete at the NJCAA Region VI Championship.
#14 SEWARD COUNTY/HESSTON MATCH RESULTS<http://www.sewardsaints.com/sports/wten/2014-15/files/SewardHesstonW.pdf>
Roy Allen