Saints Tennis Players Spruce Up Yellow Brick Road
KSCB News - December 4, 2012 6:33 am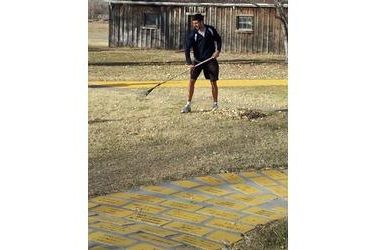 On a mild November afternoon last week, the Seward
County Tennis teams took their talents not to the tennis courts but to
Dorothy's House and the Coronado Museum to help spruce up the yellow
brick road and the museum grounds. The Saints and Lady Saints players
used the afternoon to rake leaves and clean up trash around one of
Liberal's most famous attractions. The teams collectively raked around
20 bags full of leaves off of the now bare winter trees. "It has been
years since a group called us looking to help and we are so fortunate to
have the hard working students from the Seward County Tennis Program
reach out to us to provide a helping hand when we needed it most" a
spokeswomen from Seward County Historical Society said. While it did
cause a few of the players to break a sweat with the hard work, Head
Coach Jerry Thor seemed to think that the work would do as much good for
his players as it did for the museum, saying "one of the most important
responsibilities for a Saints tennis player is finding ways to have an
impact on campus and be of service to the community. I am excited to
provide an opportunity for our athletes to experience the history of
Seward County and encourage them to be caretakers of its future."
Thor said that the team will continue to look for things
that they can do to help impact the Liberal community. Talks are
already in the works for them to possibly return to Dorothy's House in
the Spring to help some other facelift projects.
Roy Allen