Saints Tennis Finishes Third at Nationals
Joe Denoyer - May 19, 2019 11:28 pm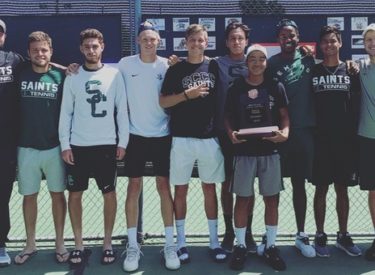 The Seward County Community College men's tennis team ended its season with a third-place finish at Nationals. The Saints ended up with 33 points, trailing only champion Tyler Junior College and second-place ASA Miami.
Alex Mesquida Berg, the lone Saint to make it to the finals, played in the No. 6 singles division against ASA Miami's Tomas Santantonio. Berg, the third seed, fell to top-seeded Santantonio, 6-7, 2-6.
Sander Jans bounced back from a disappointing loss in the second round to win the consolation finals in the No. 4 singles division. Jans defeated Eastern Florida State's Fabricio Galvan, 6-1, 6-4.
The Saints, who were in six of the nine semifinals matches in singles and doubles, had a strong season, finishing 12-5 and capturing their fifth straight Region VI title.