Saints Tennis Claims Pair of National Titles
Brock Kappelmann - October 15, 2018 6:22 am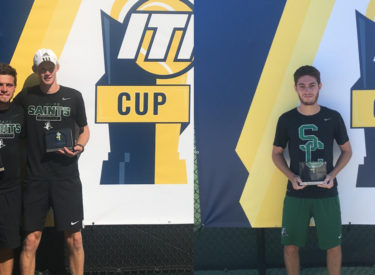 ROME, Ga. – The Seward County tennis program claimed two more national titles on Saturday, sweeping the ITA Cup singles and doubles championships. Nicolas Rousset become the first singles ITA National Champion in Seward program history, while the tandem of Sander Jans and Gabriel Nery claimed the third ITA Doubles National Championship for Seward.
"All of their hard work has paid off," said head coach Chase Ashley. "Going into each season, winning a national championship is the goal, but it seems so far away, and you can't really grasp it happening. Through every practice and workout, you mention it, but to actually achieve it just feels amazing. To see them achieve their goals is what it's all about."
Rousset had a tough draw in the singles bracket, having to take on defending National Champion Marcus Walters of Tyler Junior College in the semi-finals after defeating Frederik Orvad of Eastern Florida State 6-4, 4-6, 7-6(7) in the opening round. Rousset made easy work of Walters, defeating him 7-5, 6-4 before have to face the No. 2 seeded Alex Parker of Tyler in the championship. Rousset cruised past Parker to claim the National Championship, 6-4, 6-1.
"I am very proud of myself and how hard I worked to achieve this goal," Rousset said following his win. "It is still a weird feeling to be called a national champion. I am also proud to make history and be the first Men's Singles National Champion for Seward County."
After earning an at-large bid to the ITA Cup, Nery and Jans had to take on teammates and No. 2 seeded Hugo Lobo and Rousset in the semi-finals of the doubles bracket. After defeating No. 3 seeded Toru Horie and Andres Cabezas of ASA Miami 6-2, 6-2, Nery and Jans completed another upset over Lobo and Rousset 7-5, 6-4 to advance to the championship against ASA Miami's Sergio Ingles and Matthew Carroll. Nery and Jans were able to do the improbable and defeat Ingles and Carroll 6-3, 6-4 to win the ITA Doubles National Championship despite being an at-large bid.
After suffering a season-ending injury a season ago, Nery's hard work paid off.
"For me, it's very special," he said. "Being able to come back from such a bad injury and win a championship and represent Seward at a national level is an amazing feeling."
Jans accomplished the feat in just his first year in Liberal.
"Being able to win as a freshman is a very special feeling for me," Jans said. "It is also very special to be a apart of the team that made history by winning two national championships this fall."
After winning the JUCO division of the ITA Cup, Jans and Nery were pitted against the NAIA Champions for a chance to compete at the Oracle Cup finals in November. They took on Valentino Caratini and Ayed Zatar of Georgia Gwinnett, but lost 6-4, 6-4 to end their fall season.
Rousset will now travel to Surprise, Arizona to participate in the 2018 Oracle ITA National Fall Championships that take place November 7-11. Featuring the top talent from Division I, along with the automatic qualifiers from the ITA Cup, the Oracle ITA National Fall Championships is the only collegiate event to bring all five divisions (Division I, Division II, Division III, NAIA, JUCO) of collegiate tennis together to compete for a national championship.