Saints Take Down Barton in Final Home Game
Brock Kappelmann - February 16, 2020 9:47 am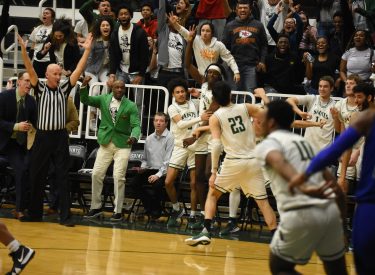 Kenny Hernandez
LIBERAL, Kan.- Seward County Community College storms back in the second half to defeat Barton Community College 79-72 for sophomore night in the Greenhouse on Saturday. Saints were led by Branton McCrary with 18 points, six rebounds, and seven assists, Roy Clarke added 17 points off of the bench.
In the first half the Saints kept the game within eight points and never back down from the physicality that the Cougars brought to the table. Both teams shot 46% from the field in the first half and Barton took a 42-34 lead into halftime.
The second half the Saints trailed by ten points early 44-34 and that was the largest deficit in the game for Seward. This was an all to familiar situation for the Saints as they keep the game within reach and look for times to strike. With the defense on a full court press it forced Carton to turn the ball over and create transition baskets. Seward climbed all the way back to reclaim the lead 66-64 with a Clarke lay-up.
The Saints went on to never give back the lead to the Cougars and a big corner three by Ramiro Santiago put the game at a two-possession game to seal the win. Seward has an opportunity to host a first-round playoff game in the Region VI tournament if they are able to jump up to fourth spot in the West and tonight was a big win to keep those hopes alive.
Colby was led by Diovonte Caldwell with 16 points and five rebounds. Martin Vogts and Keandre Bowles both added 12 points for the Cougars.
The Saints had just one other player in double digits and that was Santiago with 10 points.
Seward has won four of the past five against the Cougars.
Seward travels to Northwest Kansas Technical College on Wednesday to face the Mavericks at 8:30 central time on B107.5 and kscbnews.net.