Saints Take Conference Opener Over Pratt
Brock Kappelmann - November 20, 2021 1:00 pm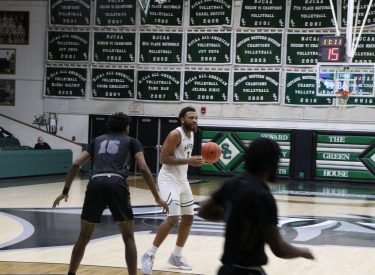 Kenny Hernandez
LIBERAL, Kan. – Seward County Community College's men's basketball team defeats Pratt Community College 98-84 in their conference opener on Wednesday night. The Saints went on a 10-0 run late in the first quarter to separate themselves from the BEavers and kept Pratt at bay for the remainder of the game to claim the victory. Seward County will face Butler Community College on Saturday afternoon.
To start the game the Saints trailed 23-18 with 8:55 left in the first half. Seward County took the lead at 28-27 over Pratt after a corner three by Wilson Dubinsky with 7:13 left on the clock before halftime. The three by Dubinsky started a 13-2 run as the Saints went on to lead 38-29 and continued to separate themselves. Seward county went in the break with a 50-36 lead over the Beavers.
In the second half, the Saints took a 16 point lead after a lay-up by Branton "Bee" McCrary with 11:45 left on the clock. Seward County continued to add to their lead and with 10:14 on the clock, Taye Donald scooped a lay-up in to give the Saints their largest lead of the game 75-54. The Beavers fought back but the Saints still led 87-73 as Pratt traded two for three with Seward County. Pratt cut the lead down to 11 points with 2:38 left in the contest.
The Saints held on to their lead and ran out the clock to win the game 98-84 and to improve to 3-2 overall and 1-0 in conference play.
Seward County was led by Kevon Cooper who had a game-high 20 points and added seven rebounds in the contest. McCrary and Dubinsky added 17 points apiece for the Saints, and Erik Pratt had 12 points in the contest.
The Saints will continue conference play on Saturday as the take on No. 7 Grizzlies at 1 PM CT in El Dorado, Kansas.