Saints Sweep Pratt on Frigid Day
Brock Kappelmann - March 13, 2017 7:11 am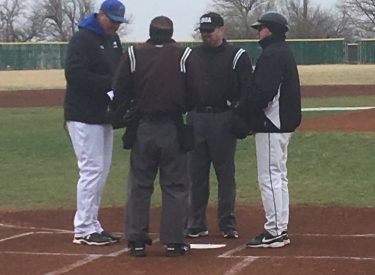 With the temperature in the mid to low 30's and the wind chill in the mid to low 20's, Seward played some pretty good baseball.  Sunday the Saints went to Pratt and swept the Beavers 4-3 and 14-11 at Pratt's Stanion Field on a gray and wintry day.
Jared Biddy provided the Saints first complete game of the season in game one.  Biddy struck out eight and did not allow an earned run.  Seward scored two in the third with the wind howling in from right field.  Montana Newell drove home a run with two outs and Cody Stineman drew a bases loaded walk.  Trent Powell doubled down the first base line to lead off the sixth and scored on an Errett Edwards hit.  Pratt tied the game with three unearned runs in the sixth.  Addison Kaasch reached on a dropped third strike to lead off the seventh and scored on a slicing Stineman double over the left fielder's head to score Kaasch and give the Saints the 4-3 lead.
Seward got off to a great start in game two taking an 8-0 lead.  The Saints scored two in the first when Stineman singled home a run and Brian Tims doubled home a run.  SCCC added three in the second buoyed by Kaasch's two RBI double.  He scored on a wild pitch.  The Saints plated three more in the fourth.  Tims doubled home three.  The Beavers got to the Saints in the fourth with two and nine in the fifth to take an 11-8 lead.  Seward scored two in the sixth as Newell singled home two.  Seward tied the game in the seventh as Kaasch doubled and scored on a Newell single.  Lawrence Mayberry grounded out but drove home a run (Brian Tims) to lead 12-11 in the eighth.  Tims singled home two insurance runs in the ninth.  Tims was 5-6 with six RBI's.  Kaasch was 5-6 with six runs.  Ethan Earhart pitched five scoreless innings relief with six strikeouts for the win.
Seward plays at Pratt Wednesday at 1 for a double header.  Monday's games were postponed due to cold weather with temperatures in the low 30's and strong north winds.