Saints Sweep Pratt
KSCB News - March 30, 2014 8:42 am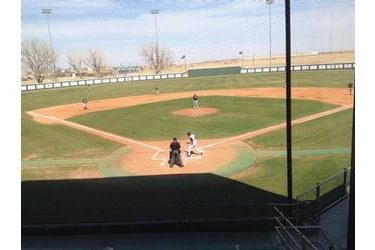 The Seward baseball team broke a five game losing streak and swept The Pratt Beavers 8-4 and 19-5 Saturday at Brent Gould Field. The Saints move into a tie with Dodge City for third in the Jayhawk West.
In game one, Austin King improved to 5-1 pitching the distance for the Saints. He struck out eight in the win. The Saints scored six of their eight runs with two outs in game one. Brandon Rix lined a double to right to plate two runs in the second. Mason Marshall added a two run double to right with two outs in the third. Jordan Leinweber added an RBI single. Pratt came back with four in the fourth to make it a 5-4 game. Seward scored two in the fourth thanks to singles by Brandon Urquizo, Bryson Allen, and Brent Williams and a Pratt error. The Saints added a run in the sixth. Brent Williams, Jake Fuller, and Kevin Connolly had two hits a piece. SCCC out-hit the Beavers 11-5 while the Saints had four errors and Pratt had three.
In game two, Seward scored 19 runs on 20 hits in the seven inning run rule shortened game. Pratt had five errors. Seward scored three in the first, five in the second, four in the third, single runs in the fourth and fifth, and five in the sixth. Pratt's starting pitcher walked four in the first and Brent Williams added an RBI single. Connolly added a sac fly. Max Lusk tripled to left with one out in the second. With two outs, Bryson Allen tripled home a run. Williams added a two RBI double and Leinweber launched a home run to right for his third of the year. Fuller added and RBI single. In the third, reed Thompson doubled, Allen singled home a run, Williams whacked another two RBI double and Leinweber doubled home a run. The rout was on. It was 12-0 after three. The Saints added a run in the fourth as Lusk hit a sac fly. Connolly's RBI single in the fifth helped the Saints score. The Beavers scored three in the sixth but the Saints answered with five. Thompson doubled with one out, Allen doubled home home, Connolly added an RBI double, Fuller singled home two, and John Solberg singled home a run. JB Olson improved to 5-1 pitching six innings and striking out 10.
Seward is 20-16 overall and 10-8 in the Jayhawk West. Pratt is 13-20 and 2-12. The Saints have won 16 in a row over PCC at home dating back to April of 2006.
The same two teams meet Sunday at 1 on 1270 and kscbnews.net.