Saints Sweep KJCCC Player/Pitcher of the Week
KSCB News - February 13, 2013 6:26 am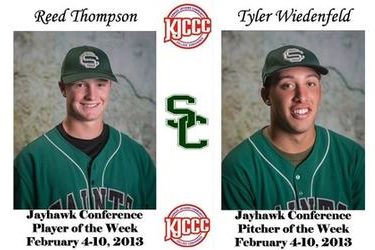 A pair of Seward County Saints have swept the Jayhawk
Conference Player and Pitcher of the Week awards this week as announced
by the conference on Tuesday. Freshman Reed Thompson has been named the
KJCCC Player of the Week while sophomore righty Tyler Wiedenfeld has
been named the Pitcher of the Week.
Thompson hit .444 for the Saints in three ballgames last
weekend. The freshman left fielder had two hits and an RBI in the
Saints 5-4 win over Northeastern in game three of the series on Saturday
and followed it up with another two hit game in the series finale
including a late inning triple in an extra innings loss for Seward.
Wiedenfeld continued his hot start to the 2013 season
with 6 innings of 3 hit baseball Friday against Northeastern.
Wiedenfeld picked up the win, striking out 10 Plainsmen batters without
walking a single one. He has now thrown 12 innings on the 2013 season
without allowing a run while striking out 18.