Saints Sweep Conqs and Move into a Tie for 2nd
Brock Kappelmann - April 4, 2021 8:56 am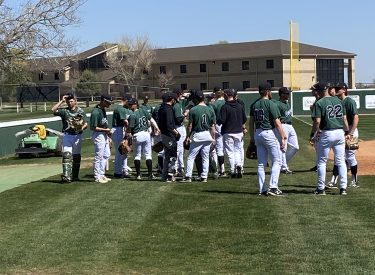 The Seward County Saints are surging.  The guys in green took all four over the Dodge City Conquistadors and have won eight in a row.  That's after the Saints swept Dodge City 6-5 and 10-6 Saturday afternoon at Brent Gould Field.
In game one, Seward built a 6-1 lead and then held on.  Both teams scored in the first.  The Conqs scored after two SCCC errors.  Reed Thomas singled home a run in the first for Seward.  In the fourth, Wyatt Grant singled home a run and Braden Boisvert ripped a double to the center field wall to score two runs and give the Saints a 4-1 lead.  Seward added insurance in the sixth.  KP Werner singled home two runs in the sixth for a 6-1 lead.  Dodge City scored four runs on five singles in the seventh.  Mason Martinez pitched 6 and 2/3 with 12 strikeouts and no walks.  Boisvert earned the save facing and striking out one DC3 hitter. Dodge out hit SCCC 8-7 and SCCC had three errors while the Conqs had two.
In game two, most of the scoring came early.  Seward scored in the first.  Kase Johnson doubled and would score on an AJ Folds ground out.  Seward scored five in the second.  Sam Berberich singled and Jon Cantu walked.  Richard Armijo reached on a DC3 error.  KP Werner hit a sac fly.  Johnson reached on another Dodge City error.  Wyatt Grant lofted a three run home run to left for hit conference leading 12th of the season and fifth of the series.  That gave SCCC a 6-0 lead.  The Conqs scored two in the third.  Seward scored in the third to lead 7-2 after three.  Dodge scored two in the fourth to make it 7-4.  Werner's sac fly in the fifth gave the Saints an 8-4 lead.  Seward scored two insurance runs in the eighth when Boisvert doubled home two runs.  Dodge scored two in the ninth.   Dylan Day pitched five innings with six strikeouts and two walks allowing three earned runs.  Steven Craddock pitched four innings allowing two runs with six strikeouts and one walk.  Grant was 4-5 and finished the series 14-17 with five homers, and 13 RBI's.
Seward is 14-14 overall and 10-6 in the Jayhawk West.  They are tied with Cloud for second in the Jayhawk West.  Seward hosts Barton Thursday at 1 pm.  Game one will air on 1270 and kscbnews.net.