Saints Sweep Colby to Take Opening Series
Brock Kappelmann - March 10, 2019 10:12 am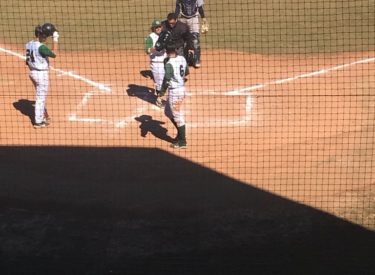 It has to be a good feeling for the Seward baseball team.  It's been a while since they've been in this spot.  With two wins over the visiting Colby Trojans Saturday afternoon at Brent Gould Field, the Saints win their Jayhawk West opening series for the first time since 2014.  They also win a series over Colby for the first time since 2015.  Seward won 5-4 and 17-4 Saturday in Liberal in two vastly different games.
Game one was very well pitched.  Cole Evans pitched 5 and 2/3 innings striking out six and walking three.  The saints scored in the third when Benny Ayala ripped a double to left to make it 1-0.  CJ Fernelius doubled in the fourth and scored on one of the four Trojan errors.  Colby scored in the fifth to make it 2-1.  With the wind blowing from left to right on Saturday, Braxton Allen took advantage with a two run opposite field homer to right in the fifth to make it 4-1.  Colby scored two in the sixth to make it 4-3.  Cory Didier got the last out of the inning.  Colby's Matt Coutney lofted a homer over the right field wall to tie the game at 4-4.  After an 0-2 count, Cruz Shope was hit by a pitch to begin the seventh.  Allen reached on an error.  Ayala was intentionally walked.  Cayde Ward lined a single to left center for the walk off winner.
Seward broke out the bats in game two.  The Saints scored 10 runs in the first.  All 10 came with two outs.  Owen Martin singled home a run.  Jose Caraballo walked with the bases loaded.  Wyatt Grant singled home two.  Shope singled home a run.  Allen walked with the bases loaded.  Ayala cleared the bases with a three RBI double.  The Saints scored three more in the second.  KP Werner doubled and would score on a Shope RBI single.  Allen doubled home two runs.  The Saints added four runs in the fifth.  Ward doubled to lead off the inning.  Joe Kuhn tripled him home.  Caraballo singled him home.  Allen added an RBI single.  Ryan Giberson pitched six strong innings striking out five.
The Saints are 10-8 and 3-1 in the Jayhawk West while Colby is 9-6 and 1-3.  Seward plays in Borger against Frank Phillips on Tuesday and hosts Cloud on Thursday.  Thursday's game one airs on kscbnews.net and game two airs on 1270.
Game 1 audio:
Game 2 audio: