Saints Survive North Platte
KSCB News - November 10, 2012 6:42 am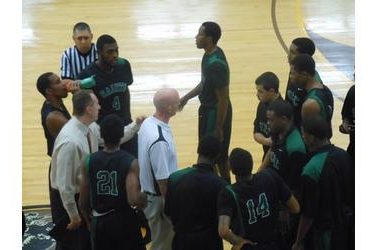 Seward didn't lead until the last minute of the game. Fortunately, that was all they needed to hold on to a lackluster 61-59 win over North Platte Friday afternoon in Garden City. Jabari Peters sunk a left corner three pointer out of a timeout with about one minute to go to give the Saints a 60-59. Peters carried the Seward offense with 21 points. Malcolm Hill-Bey added 12.
The North Platte Knights, who went to the 2010 NJCAA Tournament, dug the Saints a hole of 12-0 and 15-2 to begin the game. Seward clawed back to tie the game at 22 late in the first half but the Knights led 28-24 at the half.
North Platte turned it over 32 times which gave the Saints multiple opportunities to get back in the game. The Saints struggled mightily at the free throw line going 17-34 while North Platte was 22-26 at the free throw line.
The #9 Saints are 3-0 and play Kingdom Prep Academy Saturday at 3:30. There will be no broadcast of this game. Garden City beat Kingdom Prep 85-77 Friday night. The next broadcast will be Friday at 8 p.m. at home against Midland on Talkradio 1270 and kscbnews.net.