Saints Survive Atrocious Outing
KSCB News - March 6, 2014 11:37 pm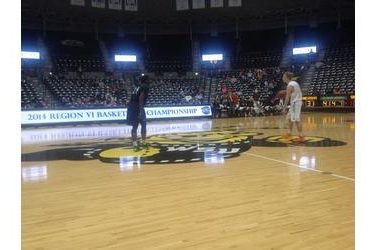 Seward head coach Bryan Zollinger said on KSCB's post game show that his team played atrociously. The good news is Seward actually won 73-68 over Neosho Thursday night at Koch Arena in Wichita in the quarterfinals of the Region 6 Tournament.
The Saints and Panthers were tied at the half at 33 after Neosho jumped to a 9-2 lead but Seward would lead 22-17 and 33-28.
The Seward defense stood tall in the second half holding the Panthers scoreless from the field for 10 minutes. Neosho shot just 29 percent in the second half and 32 percent for the game.
Niem Stevenson scored 30 while Malcolm Hill-Bey and Quintin Purtue scored 16 a piece. Seward won despite going 26-45 at the foul line. Hill-Bey had seven rebounds, four assists, and three steals without a turnover.
Seward advances to the semi finals for the fifth straight year and sixth in the past seven. Seward plays Pratt Friday night at 7 on 107.5 and kscbnews.net. Pratt beat Coffeyville 66-61. Northwest Tech outlasted Independence 97-92 in triple ot and Hutchinson topped rival Butler 71-61.