Saints Struggles Continue in Home Finale
KSCB News - February 23, 2016 7:18 am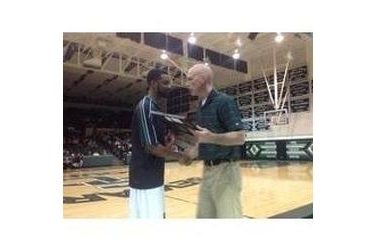 It was a fitting finish to the home season for the Seward County Saints. Play well early, get bullied on the boards, not enough depth offensively, and not enough stops on defense. Colby came to Seward and beat the Saints 87-81 Monday night on Seward's sophomore recognition night and ultimately their final game this season in the Green House.
The Saints led 24-14 early buoyed by a hot three point shooting start from the school's fourth all time leading scorer Niem Stevenson. The Saints led 41-40 at the half. Colby led by 11 (76-65) with 5:12 to play. The Saints rallied to pull to within one at 78-77 before the Trojans got a three point play from Noskie Obanya and an ensuing technical from Delano Jones to make it 83-77. Saints pulled to within two at 83-81 after a James Byrd tip in with 58.5 seconds left. But Seward didn't score again.
Seward has lost seven of their last eight heading into the Region 6 Tournament. Seward shot just 38 percent and saw the Trojans out rebound them 57-29. Niem Stevenson scored 24 points with nine rebounds in his final home game. Marcus Mathieu scored 17 and Charles Beauregard hade 16.
Seward is 18-12 and finishes 8-11 in the KJCCC while Colby is 18-12 and 10-9. It's their first winning season in conference since 2004. It's Seward's first back to back losing conference seasons since 2006-07.
The Saints play at Garden City Thursday night at 8 on B107.5 and kscbnews.net.