Saints Stifle Jets in Second Half
Brock Kappelmann - November 3, 2018 6:36 am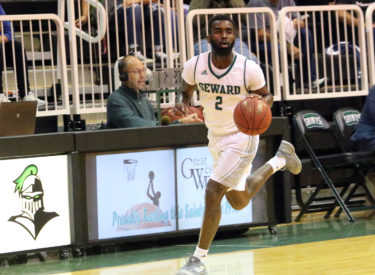 Ian Applegate
LIBERAL, Kan. – A first half deficit turned into a second half blowout win for the Seward County men's basketball team as the Saints used suffocating defense to hold the Northern Oklahoma-Enid Jets to just 26 second half points en route to an 86-67 opening day win.
It was a tight ballgame for much of the first half, until the media timeout mark hit. The Jets used a 5-0 run to give them a six-point lead before extending that lead to nine points with points in back-to-back possessions, making it 22-13. Seward cut the lead to four with a Marco Morency jump shot, before eventually dwindling the deficit to one points with another Morency shot, making it 26-25. However, Enid seemingly had an answer for everything, ending the half on an 11-1 run to go into the break, up 41-33.
Seward shot 31.6 percent (12-38) from the floor, but just 21.1 percent (4-19) from behind the arc in the first half. Enid connected on 40.6 percent of their shots (13-32), while hitting 36.4 percent (4-11) from deep.
After allowing just over 60 points a game a season ago, head coach Jason Sautter was none too happy with the performance in the first half, but that all changed in the second. A turnover and missed shot for the Jets on their first two possessions were a sign of things to come as it took Seward just two minutes to overcome their eight-point deficit and tie game at 41.
The Jets retook the lead a few possessions later and were able to hold of the Saints for a couple minutes, but Seward's stifling defense and explosive offensive were too much for the Jets as they went into the media timeout with a five-point lead. The lead continued to grow for the Saints, going up double-digits with five and a half minutes left to play with a steal and fast break layup by Devin Bethely to make it 69-59. Seward held the Jets to just eight more points over the final five minutes of play, while scoring 17 of their own to win the game 86-67.
Enid was held to just 25 percent shooting from the field (8-31) and deep (3-12) in the second half, but the Saints hit on over half of their attempts (53.7 percent), while score 53 points in the second half. It marks the first time since the opening game of last season that Seward scored over 50 points in a half.
Four Saints scored in double-figures, led by Isiah Small (19 points). Marco Morency (17 pts), Hegel Augustin (16 pts) and Devin Bethely (15 pts) joined Small in double-figures. Morency came up one rebound shy of a double-double.
Seward will return to the Greenhouse tomorrow night (Sat. Nov. 3) at 8:00 p.m. for a game against Lamar to finish the Pizza Hut Classic. The game will be live streamed on the Seward County Sports Network or can be heard on 1270 AM with Brock Kappelmann on play-by-play.