Saints Stay on Top
KSCB News - January 31, 2011 9:18 am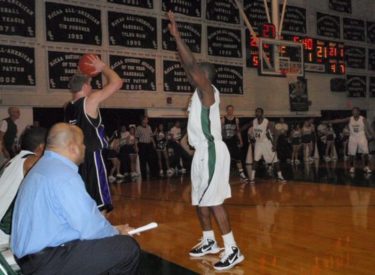 The Seward County Saints used smothering defense and hot shooting to make sure the Butler didn't do it Saturday night in the Green House. The first place Saints took down the defending Region 6 champion Grizzlies 86-65 in front of a packed Green House. Seward shot 52 percent from the field with six Saints scoring in double digits. Seward forced 32 Grizzly turnovers. What's scary about this Seward team is head coach Bryan Zollinger says they are capable of even better play.
"It's kind of weird because I didn't really feel like we played that well," Zollinger said. "I thought we missed a lot of rotations early. They got like six offensive rebounds in the first five rebounds of the game so I didn't think we did a good job there. We did attack the basket pretty good and we hit some shots."
Daveon Boardingham led the Saints with 18 points and six rebounds. Marky Nolen registered his fifth straight double double with 12 points and 13 rebounds. Jeremy Jones added 14 points and seven assists. Phil Hawkins dropped in 12 and Rafriel Guthrie had 11. Irvin Hollinger added 10 for the Saints who are 19-3 overall and 7-1 in the Jayhawk West. Butler falls to 14-8 overall and 4-4 in the Jayhawk West. Seward hosts Hutchinson at 8 p.m. Wednesday for first in the Jayhawk West. The Dragons are 6-2 in conference.