Saints Start Hot and Stay Hot in Win Over Conqs
Brock Kappelmann - February 11, 2020 6:41 am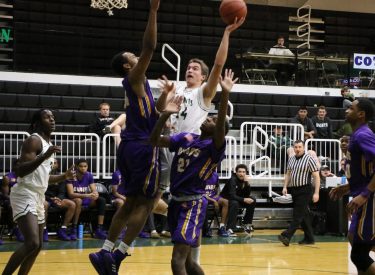 Kenny Hernandez
LIBERAL, Kan.- Seward County Community College men's basketball takes a large lead early and never lets up as they defeat Dodge City Community College 92-56. Tee Saints improve to 15-11 overall and 8-9 in conference play as the Conquistadors fall to 9-17 overall and 1-16 in conference play. Seward played 11 different players in the game and six scored double digits in the contest.
From the jump ball, the Saints went on a 17-4 run with a three-point basket by Roy Clarke and this is the last time Dodge City would be within 10 points. With 7:40 left in the first half Qaiyoom Olanlege connected on a lay-up in traffic to give Seward a 34-13 advantage. The Saints had a defensive scheme of a full-court man to man but looked to double team the ball as soon as the ball handler crossed the midcourt. This disrupted the Conquistadors offense and created fast breakpoints for the Saints, they went into halftime with a 53-24 lead.
To start the second half the Saints picked right up where they left off, with disruptive defense and a fast-paced offense. With another Clarke three-pointer, the Saints went ahead 74-34 to cap a 21-10 run with 11:59 left in the game. Seward took their largest lead of the game as they led 84-42 with 5:42 left. Dodge City responded with a 14-3 run to get the Saints lead down to 87-56 after a made three by Dodge City's Chris May.
Seward held Dodge City to 26% from the field and 11% from behind the three-point line. The Saints shot 51% from the field and connected on 8-15 from long range for 53%. Seward out rebounded Dodge City 50-42 and was able to score 18 points off of second-chance opportunities.
Dodge City was paced by Kevin Mcgaskey with 13 points, four rebounds, and two assists. Also in double digits was Dejuan Horne with 10 points and two rebounds.
Seward was led by Roy Clarke with a game-high 15 points, five rebounds, and two assists. Ahmed Ibrahim had a career-high 11 points, Branton McCrary added 11 points, Stephen Takyi and Kyle Cardaci both had 12 points and Qaiyoom Olanlege added 10 points off of the bench.
Seward County will be back in action Wednesday at 7:30 PM as they travel to Colby Community College. The game airs on 107.5 and kscbnews.net.