Saints Split with Vernon
Brock Kappelmann - March 1, 2022 5:42 am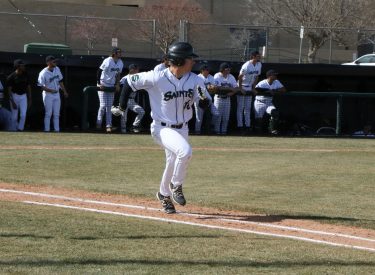 Kenny Hernandez
LIBERAL, Kan. – Seward County Community College splits their doubleheader against Vernon College with a game one victory 9-3 and fell in game two 14-3. The Saints are now 3-11 on the season and will take on the Chapperals tomorrow March 1st at noon.
GAME 1
The Saints jumped out to an early 2-0 lead with a single by Ranse Radtke RBI single to start and a bases-loaded walk scored Tristan Curless from third base. In the bottom of the second inning, the Saints Reed Thomas connected on a single to left field to score Noah Baker from second base. Jaxson Gregg connected on a single that scored Jase Schneider from third base to give Seward County a 4-0 advantage over the Chaparrals.
Vernon scored one run in the third and added two more runs in the top of the fourth inning as Seward County led 4-3. The Saints Jacob Masters connected on an RBI double that scored Luke Williams from first base to take a 5-3 lead. Radtke scored Masters on a single to center field as Seward County led 6-3 after the fifth inning. Gregg scored on a wild pitched by the Chaps to give Seward County a 7-3 lead in the bottom of the sixth inning. Masters connected on an RBI single that scored Curless and Williams to give the Saints a 9-3 advantage.
The Saints followed up with a one, two, three top of the seventh inning to give the Saints a 9-3 victory over the Chaps.
Mason Martinez receives the win from the mound for the Saints as he went four innings, allowed three runs on five hits, and struck out five.
With the win, the Saints improved to 3-10 on the season.
GAME 2 
Jase Schneider started off the second game with a home run in the lead-off position for the Saints. Masters hit a sacrifice fly to right field to score Gregg from third base to give Seward County a 2-0 advantage after the first inning. Vernon took the lead in the top of the third inning with three runs to lead 3-0 over Seward County.
The Saints tied the game at 3-3 after an RBI single by Noah Baker to score Masters from third base.
Vernon scored four runs in the top of the fifth inning and followed up with seven runs in the sixth inning to gain a 14-3 lead over Seward County. The Saints were unable to rally late as they fell 14-3 in the sixth inning.
Dylan Day received the loss from the mound as he went four and third innings, allowing seven hits and seven runs while striking out seven.
The Saints fell to 3-11 on the year and will finish the three-game series tomorrow at noon against Vernon College.