Saints Split with Beavers to End Regular Season
Brock Kappelmann - April 28, 2019 6:12 pm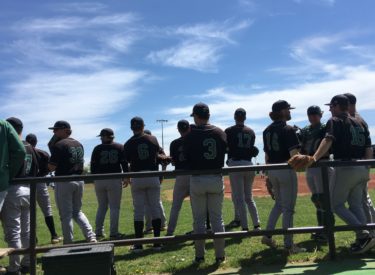 Phil Lee
The Seward County Community College baseball team split a doubleheader with Pratt Community College, winning the first game, 17-6, but dropping the nightcap, 11-7, on Saturday at Stanion Field. The Saints dropped the four-game series to the Beavers, going 1-3.
Seward, which has lost seven of its last eight games, ends its regular season at 17-15 in the Jayhawk West and 26-25 overall. They will have to wait to find out who and where they will play in the first round of the Region VI Tournament.
GAME ONE
The Saints scored 12 runs late in the game in a six-inning, rule-rule victory in the opener.
Seward and Pratt battled back and forth over the first four frames before the Saints took control with a seven-run, fifth and a five-run, sixth. After the Beavers scored two runs in the bottom of the fourth to take a 6-5 lead, the Saints answered back with a seven-run explosion in the following inning.
Richard Armijo and Cruz Shope each had a two-run double and Jose Caraballo chipped in with a three-run triple to account for the seven runs and give Seward a 12-6 advantage.
Seward added five more runs in sixth inning when a pair of wild pitches allowed two runs to score, AJ Folds singled in a run and Benny Ayala blasted a two-run homer for a 17-6 lead.
KP Werner pitched a scoreless sixth to preserve the win for Seward. Chandler Poell (3-1) started and picked up the win, allowing six runs, four earned, on eight hits, striking out six and walking two over five innings.
Shope went 2-for-3 with four RBI and Ayala, Armijo and Caraballo each had multiple hits and drove in three runs to pace a 15-hit attack by Seward.
GAME TWO
The Saints fell victim to the big inning and could not overcome the deficit in the game two loss.
Pratt jumped out to a 3-0 lead in the first inning, but Seward tied in the third on RBI singles by Richard Armijo and AJ Folds and a Pratt error which allowed another run to score.
The Beavers came right back and tallied five runs in the third to open an 8-3 lead. Pratt tacked on two more runs in the fifth before Seward scored twice in the sixth to cut the margin to 10-5.
After the Beavers scored a run in the seventh, the Saints had one last gasp in the top of ninth. With two outs, Cruz Shope doubled and Folds followed with his first homer of the season to make it 11-7. Cayde Ward walked but was left stranded as Benny Ayala struck out to end the game.
Folds had two hits and drove in three runs, Cruz Shope had three hits and Zane Alexander, Owen Martin and Armijo each had an RBI for the Saints.
Braedon Gould (2-6) took the loss, surrendering eight runs on 10 hits, striking out one and hitting a batter over 2 1/3 innings. Cory Didier relieved Gould and gave up three runs on six hits, struck out six, walked two and served up a homer over 5 2/3 innings.
https://soundcloud.com/user-538336933/sets/2019-0427-game-2-sc-at-pratt