Saints Split Sunday in Pratt
KSCB News - March 23, 2015 7:17 am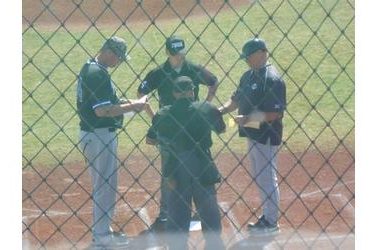 The Seward County Saints split two games Sunday at Stanion Field to split the four games series. Seward won the first game 12-3 and Pratt took the second game 7-4.
Brent Bezio (3-1) pitched a complete game in the game one win. Brent Williams set the school record for career doubles slashing a double to right center for his 47th career two bagger breaking Josh Paul's record of 46 from 2004-05. Seward jumped off to a strong start scoring five in the first. Justin Graff-Rowe singled home two and Dillon Drury doubled home two before Nic Ricigliano drove home a run on a fielder's choice. The Beavers plated one in the first and two in the second to make it 5-3 but didn't score again. Chad Kennedy doubled in the fifth and Brent Williams drove him home. Jared Ledbetter hit a two run homer and Williams doubled to right center to drive home two for his record setting 47th double. Logan Nethercot drove home a run in the seventh and Brandon Urquizo singled home a run. Dillon Drury was 3-4 in the win.
In game two, the Seward bats and defense let them down. Pratt scored two unearned runs against starter Nate Dockery in the first. Pratt's Jamie Crabtree hit a solo homer to make it 3-0. Seward scored two in the third when Williams doubled home a run and Brandon Rix grounded out to score a run. But Pratt responded when Seward failed to turn an inning ending double play with three runs thanks to a three run homer by Kailen Glover to make it 6-2. The Beavers scored a run to lead 7-2 in the fourth. The Saints scratched two runs across with a Dillon Drury two run homer to center for his second homer of the season. Jakob Hernandez pitched four and one third scoreless innings in relief.
Seward is 12-17 and 8-8 while Pratt is 11-16 and 4-8 in the KJCCC West. Seward hosts Clarendon Wednesday at 3.