Saints Split Secures Broncbuster Series
KSCB News - April 2, 2012 7:27 am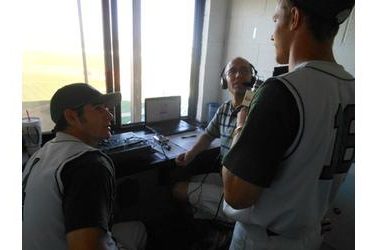 The Seward County Saints won a series with the rival Garden City Broncbusters after splitting a double header Sunday at Brent Gould Field. Garden took the first game 6-2 before the Saints won game two 12-7.
In game one, each run was scored with two outs. The Busters scored one in the first, two in the fourth, and three in the fifth. Jake Barrios tripled home a run and Carlos Dorado singled home a run in the fifth for Seward's only runs.
In game two, the Saints were consistent offensively for the first time in seven games. Seward scroed three in the second, one in the third and fourth, three in the fifth and sixth, and one more in the seventh. Jake Barrios was 4-5 with two doubles and two RBI's while Tanner Rainey reached base all five times and was 3-3 with a homer (1) and an RBI double. Kevin Domzalski blasted his team leading fourth home run. The three run shot made it 8-3 in the fifth. A key play in the game came in the top of the fifth. The Broncbusters had just plated two runs to make it 5-3. Saint second baseman Francisco Bolanos made a sliding catch down the right field line and fired home to Diego Cruz who applied the tag for a key double play. T.J. Looney (4-2) pitched seven innings for the win.
Seward is 19-19 overall and 12-8 in the Jayhawk West while Garden is 21-16 overall and 10-6 in the Jayhawk West.
Seward plays at Clarendon on Wednesday and at Hutchinson Friday at 3 p.m. and Saturday at 1 p.m. The Hutch games air on Talkradio 1270.