Saints Split on Frigid Day in Dodge
KSCB News - May 2, 2016 7:20 am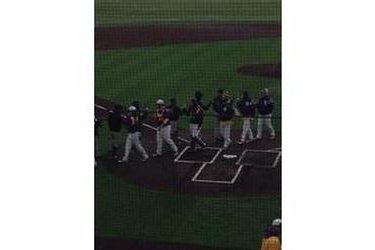 Seward split their final two Jayhawk West games Sunday at Dodge City's Cavalier Field. On a day with temperatured in the mide 40's and wind chills in the mid 30's, Seward won the first game 3-0 and Dodge City won game two 6-3. The split means Seward finishes fifth one game behind fourth place DC3.
Seward right hander Jared Biddy did his part in game one. Biddy (6-2) pitched a complete game shutout. Seward scored one in the second as Jared Ledbetter doubled home a run. Brian Tims doubled home a run in the fifth and Chad Kennedy provided and RBI double in the sixth. Tims, Ledbetter, and Kennedy had two hits a piece.
Game two's winner knew they would host in the first round of the Region 6 Tournament while the loser knew they would go on the road May 7. The Conqs scored two runs on three hits against starter Nic Ricigliano in the third. Seward scored in the fourth when Just Graff-Rowe singled and Judah Sweat doubled before Logan Nethercot grounded out to score the run. Graff-Rowe's two RBI double to right center gave the Saints the 3-2 lead in the fifth. But the Conqs scored on in the bottom of the inning before adding two in the seventh and one in the eighth to lead 6-3.
Seward finishes 18-14 and fifth in the Jayhawk West and 30-24 overall. They play Frank Phillips Tuesday at 2 at Brent Gould Field for their final home game. The Saints play best two of three at Johnson County Saturday at 1 in Overland Park on 1270 and kscbnews.net. Dodge City is 40-16 and 19-13 in the Jayhawk West and will host Allen.