Saints Split Double Header with Hutch on Odd Day
Brock Kappelmann - March 13, 2020 7:27 am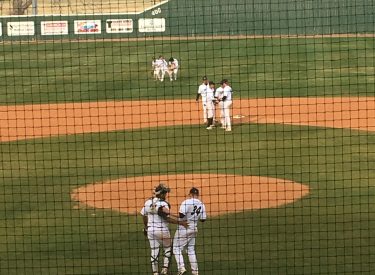 It was an odd day at Brent Gould Field.  The day began with the normal routines of college baseball.  Batting practice and warm ups for both teams with music blaring over the speakers with pings of the bats and the pops of the players gloves.  The game began as usual with the normal chatter coming from both the Seward County and Hutchinson dugouts.  But it turned into the theater of the weird.  During game two, the KJCCC had announced that there will be no more KJCCC athletic activities in March.
Hutchinson took game one 6-4 and Seward claimed game two 12-6 Thursday at Brent Gould Field.
Seward scored first in game one with two second inning runs.  AJ Folds and George Gallardo singled and Peter Goldy grounded out to score Folds and Kason Haggard doubled to score Gallardo.  Hutch scored five runs against Seward right hander Mason Martinez in the third.   Hutch found the holes in that inning as only one of the hits was a line drive.  The Blue Dragons added a fourth inning run to lead 6-2.  SCCC scored two in the seventh as Gold singled and Haggard doubled.  Zane Alexander's sac fly and Richard Armijo's RBI single scored a run.  Martinez pitched 6 and 2/3 innings striking out four and allowing one walk.
The Dragons began game two with a two spot in the first before the Saints scored two runs of their own in the first.  KP Werner doubled home Richard Armijo and Wyatt Grant scored on an error.  The Saints scored five in the second on just two hits and two Hutch errors for a 7-2 SCCC lead.  Jonathan Cantu scored on a wild pitch.  A second run scored on an error at third.  Armijo singled to right scoring one run.  A throw from third to second went into right center field allowing two more Saints to score.  Hutchinson scored two in the fourth before the Saints scored a run in the bottom of the inning when Gallardo singled home a run to lead 8-4.  The Dragons scored two in the seventh against starter Joseph Wolf to make it 8-6.  The Saints blew the game open in the eighth when Cantu doubled home three runs with a ground ball down the third base line.  Wolf pitched eight innings with six strikeouts and two walks.  Cory Didier pitched a scoreless ninth.
Seward has won eight of their last 12 and stands at 9-13 overall and 3-3 in the Jayhawk West.  Hutchinson is 14-7 and 1-5 in the Jayhawk West.  All remaining games in March are cancelled.  KJCCC presidents will reevaluate the corona virus situation on or around March 30.
Game 2 audio: