Saints Split Butler Series as Bullpen Shines Sunday
Brock Kappelmann - March 25, 2019 7:30 am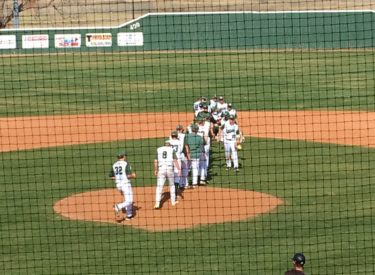 Despite very solid work out of the Seward bullpen on Sunday, the Seward County Saints had to settle for a split.  After a split Thursday at El Dorado, the teams played Sunday afternoon and evening at Brent Gould Field in Liberal with Seward winning the first game 9-3 and Butler taking game two 8-4.  Seward's bullpen was solid in both games.
In game one, Seward scored in all but one inning.  After the Grizzlies plated a first inning run, the Saints answered with three in the first.  The Saints scored three runs despite only one hit.  There were two Grizzly errors, two walks, and one HBP.  KP Werner singled home a second inning run for a 4-1 lead.  AJ Folds singled home a third inning run for a 5-1 lead.  Butler trimmed that lead to 5-3 with two in the fourth.  Jose Caraballo singled home a run and SCCC scored another run on a wild pitch as the Saints took a 7-3 lead.  Folds delivered a two RBI singled in the sixth for insurance.  Ryan Giberson went four innings on the mound with three runs.  Ryan Thomas worked three scoreless innings.
In game two, the Saints jumped out to a 4-0 lead.  Seward scored three in the firs and Benny Ayala doubled home a run and Owen Martin doubled home two.  Butler scored two in the second against SCCC lefty AJ Folds.  Seward added a run in the third as Owen Martin singled home a run for a 4-2 lead.  The Grizzlies scored four in the fourth to lead 6-4.  Butler tacked on two in the ninth to lead 8-4.  Folds worked four innings on the mound allowing six runs but only two were earned.  Chandler Poell pitched 4 and 2/3 allowing just one run allowing three hits and one walk out of the Saints bullpen. Both teams committed three errors in the game.  Seward committed two in the decisive four run Grizzly fourth.
With a win, Seward would have been tied for second.  With the loss they are all alone in fifth at 6-6 in the Jayhawk West and 14-13 overall.  Butler is 17-8 overall and 8-4 in the Jayhawk West.  Seward hosts Lamar at 1 on Tuesday and host Barton Thursday at 1 for a double header.  The Barton games air on kscbnews.net.
Game 1 audio:
Game 2 audio: