Saints Split at Hutch Saturday with Rain Sunday
KSCB News - March 13, 2016 11:21 am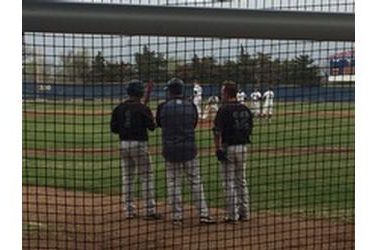 Seward starting pitchers Jacob Hernandez and Adam Keller combined to strike out 23 batters as the visiting Saints split a double header at Hutchinson's Hobart Detter Field on Saturday afternoon and evening. Hutch won the first game 3-1 in eight innings and Seward took the second game 5-4.
In game one, Hernandez punched out 13 hitters. The Blue Dragons scored in the fifth when Tate Kastens homered to left center. Seward answered in the sixth when Jared Biddy singled home Chad Kennedy. HCC's Caden Doga hit a walk off home run over the left field wall in the last of the eighth to end the game. Seward had five hits and Hutch had four.
In game two the Saints got more stellar starting pitching from Wichita State signee Adam Keller. He struck out 10 in a complete game. The Saints scored two in the first when Logan Nethercot laced a double down the left field line and scored on a Dylan Paul ground out. The Blue Dragons scored in the third to make it 2-1. The Saints were tough with two outs in the fifth. Judah Sweat singled home a run and Dylan Paul doubled home two. Doga blasted a line drive three run homer to center to make it 5-4 in the fifth. But with runner on second and third and two outs, Keller got a strike out to end the game.
Seward snaps a four game losing skid and is 8-13 and 2-4 in the Jayhawk West while Hutchinson is 15-2 and 5-1. Rain Sunday has postponed the series. It will be made up Monday at 1. Game one will air only on kscbnews.net and game two on 1270 and kscbnews.net.