Saints Sparkle in Spiking Pratt
KSCB News - October 2, 2014 6:33 am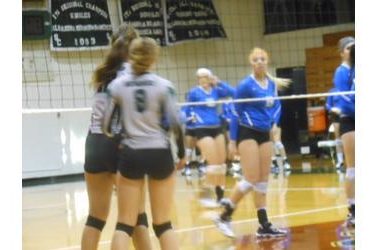 Seward County's volleyball team played inspired volleyball. After a mind numbing loss to seventh place Butler in the Oz Fest Classic Friday, Seward dominated second place Pratt 3-0 (25-20, 25-16, 25-21) Wednesday night in the Green House. Seward is 16-11 overall and 4-3 in the Jayhawk West and Pratt falls to 14-6 and 5-3 in the Jayhawk West.
Megan Sharratt led Seward in the middle with nine kills. Carolina Gasparini had eight kills while Thayna Silva and Angelina Minor added seven a piece. Nacole Miller had 21 assists and Kari Anderson had 19 digs.
Seward plays at Cloud Saturday at 2 in Concordia. The two teams are tied for fourth in the Jayhawk West at 4-3. Seward returns home to host Colby Monday night at 6:30 and Barton Wednesday night at 6;30.