Saints Shoot Blanks in Overtime Loss to Western Nebraska
Brock Kappelmann - November 14, 2021 8:30 am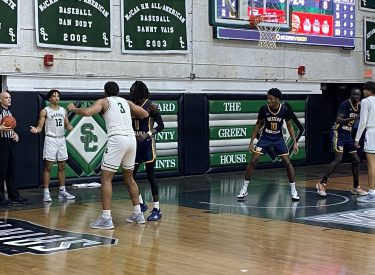 Seward seemed to be cruising right along Saturday night in the Green House.   Seward led 44-34 after taking a 40-34 at halftime.  But the Saints didn't get many more shots to fall the rest of the night in an 83-76 overtime loss to the visiting Western Nebraska Cougars from Scottsbluff, Nebraska.  Seward put up 33 more shots but didn't make enough to win the game.  Western Nebraska committed 36 turnovers and still won.
The Saints jumped out to an 11-5 lead.  Seward led 28-22 and led 40-34 at the half.  The Saints led 44-34 early in the second half before the Saints struggled to score and paraded the Cougars to the foul line.  Western Nebraska took their first lead since early in the game 50-49 with 8:36 to play.  The Cougars built a 61-56 lead with 3:40 to play.  The Saints got a bucket and then a steal and a Taye Donald lay up to make it 62-61 Saints.  Donald's runner tied the game at 66-66.  That was the score at the end of regulation.  Erik Pratt hit two 3's and score eight in overtime but it wasn't enough.
The Saints shot 31 percent from the field while Western Nebraska shot 48 percent from the field.  Seward was 27-87 and Western Nebraska was 26-54.  Seward was 7-36 from 3 and the Cougars were 4-18.  Seward was 15-26 at the foul line while the Cougars were 27-42.  Erik Pratt scored 26 in the loss.  Taye Donald had 18.  Seward's Deladris Green and Surakata Jawara made their debuts after injuries sidelined them.
It was Seward's first meeting against Western Nebraska since November 30, 2013 in Scottbluff.  Seward is 2-2 and Western Nebraska is 3-0.  Seward hosts Pratt Wednesday night for the Jayhawk Conference opener.  The women's game at 6 with Saints Shoot-around at 5:45 and the men's game at 8 on B107.5 and kscbnews.net.