Saints Shock Seventh Ranked Barton
KSCB News - January 5, 2012 7:23 am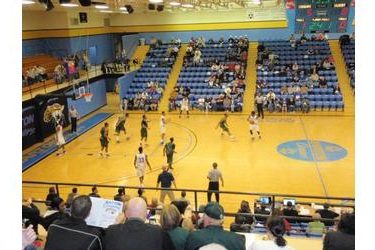 He didn't raise his voice. Seward head basketball coach Bryan Zollinger didn't need to. His team played without intensity in the first half but turned it on in the second half for a 73-67 win at #7 Barton handing the Cougars (14-1) their first loss of the season. Zollinger, who is 4-1 at Barton didn't yell at his team at halftime but still got his point across saying his team needed more intensity. It worked for the defending Jayhawk West champs.
Seward trailed by as many as 14 in the first half and trailed 38-26 at the half. The Saints outscored Barton 47-29 in the second half.
The Saints two top 50 ranked players in the country Daveon Boardingham and Deverell Biggs did not score in the first half. But Boardingham atoned in the second with 19 points and 11 rebounds and Biggs scored 13 in the win. Coreion Pearson added 11 and Kaheem Ransom scored 10.
The Saints took their first lead 58-56 with 4:42 to play and never trailed again.
Seward is 13-2 while the Cougars are 14-1.
Seward hosts 13-2 Colby Saturday night at 8 p.m. on B107.5 and kscbnews.net. Billy's is the buyout sponsor.
The first Seward Hall of Fame class will be announced Saturday night.
The Saints will be featured Thursday night during the first Green Line of the season live from Billy's at 6 p.m. on Talkradio 1270 and kscbnews.net.
KJCCC Scores
#12 Kansas City KS def Allen 78-60*
Highland def Johnson County 71-66**
Garden City def Butler 83-76*
Cowley def Fort Scott 76-41*
Dodge City def #10 Hutchinson 78-75*
#8 Coffeyville def Independence 109-91*
Colby def Cloud County 81-77* (Corrected)
Seward County def #7 Barton 73-67*
Neosho County def Labette 76-69*