Saints Shock #6 Dodge City
Brock Kappelmann - January 27, 2022 7:09 am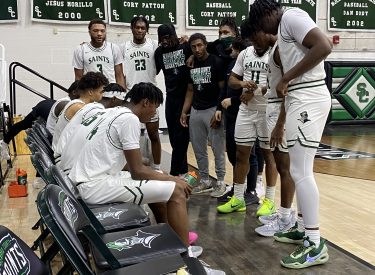 The Saints had been waiting 10 months for this.  After a contentious 95-94 double overtime loss to Dodge City in March, Seward got the home win they coveted on Wednesday night in the Green House.  With primarily different players from the 2020-21 game, Seward shocked #6 ranked and first place Dodge City 68-61.
Seward never trailed the Conquistadors.  The Saints led 19-9 with 10:39 to play in the half and claimed a 25-11 lead.  Seward led 31-17 and 35-20 before they took a 37-22 lead into the halftime locker room.  In the second half, the Saints led 48-36 and 51-37.  With foul trouble plaguing Seward's two starting posts, Dodge City rallied.  The Conqs cut the SCCC lead to five at 54-49 and 57-52 with 3:59 to play.  Both Kevon Cooper and Harvin Ibarquen fouled out.  Taye Donald's Euro stepping lay up gave SCCC a 60-52 lead with 3:30 to play after the free throw.  Dodge City connected on a three to cut the lead to 60-55 with 3:11 to go.  A Dodge City taunting technical made it 61-55.  Bee McCrary's reverse lay up gave the Saints a 63-55 lead.  Dodge cut that lead to 63-57 with 1:35 to play.  Dodge City got to within two at 63-61.
Seward shot 49 percent in the win while holding the Conqs to 39 percent shooting and committed 19 turnovers.  Seward won despite being out rebounded 34-26.  Bee McCrary and Will Dubinsky scored 15 a piece.  Taye Donald had 13.
Seward is 9-12 overall and 6-9 in the KJCCC. Dodge City falls to 17-4 overall and 12-3 in the Jayhawk.  Seward plays at Cloud Saturday at 4 on 107.5 and The KSCB and The Legend App.