Saints Shock #2 Cowley
KSCB News - May 12, 2013 5:44 pm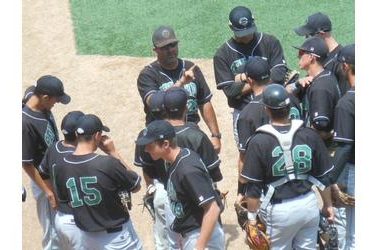 Seward rallied to win a game after a 5-1 deficit for a second straight day. ONe day after an 8-5 win over Jayhawk East runner up Fort Scott, the Saints stunned #2 ranked Cowley 8-7 Sunday afternoon at Lawrence-Dumont Stadium in Wichita.
Cowley, who lost 4-0 to Coffeyville 4-0 Saturday night, built a 4-0 lead powered by Liberal Bee Jay Dylan Delso's homerun over the left field wall. Bryson Allen singled and would later score on a wild pitch to make it 4-1 after four.
Cowley extended the lead to 5-1 but Seward struck for three runs in the bottom of the inning powered by Bret Lewis' deep two RBI triple to left center. Seward made it 5-4 after five.
Cowley, who averages 7.5 runs and bats .323 came right back with two sixth inning runs. Seward struck for three in the seventh to tie it. With two outs, Bryson Allen tripled home two to left center and Devan Nelson found the right center gap to his liking for an RBI triple to tie the game at 7-7.
Johnny Griffith whistled a double down the third base line to give the Saints an 8-7 lead after eight.
Adam Guay (4-1) pitched a scoreless ninth for his second win in as many days.
Austin King pitched four innings allowing five runs but striking out four. Keenan Hall pitched three and two-thirds allowing two runs before Guay pitched an inning and a third for the win.
Offensively, Allen was 2-4 with three RBI's and Griffith was 2-3 with two doubles.
The Tigers finish 45-11 and Seward is 33-28 and plays Kansas City Sunday night at about 8-8:30 on Talkradio 1270 and kscbnews.net.