Saints Shock #13 Coffeyville
Brock Kappelmann - January 12, 2023 7:20 am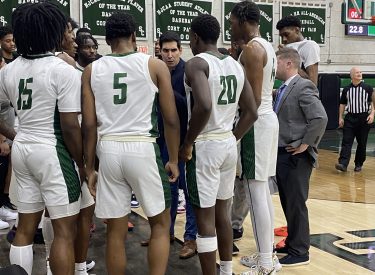 Despite being down three starters and trailing most of the night, the banged up Seward County Saints rose up to shock the #13 Coffeyville Red Ravens 82-78 Wednesday night in the Green House.  The Red Ravens led by as many as 11 in the first half.
The Ravens built early leads of 22-12 and 38-30 at the half as SCCC got off to a slow offensive start.  Seward slowly but surely chipped into the Red Raven lead in the second half trailing 53-48.  They finally took the lead 56-55 with 11:25 to play.  Coffeyville responded with an 8-0 run to lead 63-55.  Seward took a 68-65 lead with 5:24 to play.  Seward led 73-71 with 4:10 to play.  77-76 with 1:54 to go.  79-78 with 1:25 to play and took an 80-78 lead with 29.6 seconds left.
Seward shot 48 percent from the field and 54 percent in the second half.  The Saints made 7-22 from three and 13-22 at the free throw line.  The Ravens shot 47 percent and were 8-21 from three and 12-22 at the line.  The game was turnover plagued as Coffeyville committed 30 turnovers and Seward had 22 turnovers.  Seward had 23 steals.
Jaylin Henderson had 21 points with five rebounds.  Wilson Dubinsky had 19 points.  Niko Smith had 15 points and seven rebounds.
Seward is 10-8 overall and 6-6 in the Jayhawk while Coffeyville is 13-4 and 7-4 in the Jayhawk.  It was Seward's first win over Coffeyville since 2019 after five straight losses to the Ravens.  Seward hosts Pratt Wednesday night at 8pm in the Green House on 107.5.  Community Bank if the buyout sponsor.