Saints Season Comes to Disappointing End
KSCB News - February 26, 2016 7:13 am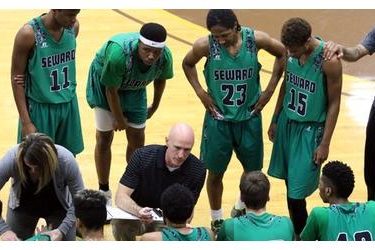 he Seward County Saints 2015-2016 season came to an abrupt halt Thursday night in the Perryman Center in Garden City as Seward trailed from the opening tip in a 116-93 loss to the rival Garden City Broncbusters, marking the first time in 10 seasons that the Saints dropped their 1st round Region VI Tournament game.
It was a rough start for the Saints who didn't find the basket for nearly four minutes to start the game as they found themselves in an early 6-0 hole. Garden City quickly pushed their lead to 16-6 and Seward was forced to play catch up from there. Niem Stevenson put his best effort forth to keep Seward in the game, but the Saints had a hard time even slowing down the Busters as they remained comfortably ahead at the midway point of the first half. A pair of threes from Delwin Young off the bench brought the Saints closer, but by the half, the Busters had their lead back to eight at 47-39.
Seward shot 42% in the half, keeping themselves alive with 16 first half free throws on 22 attempts. Stevenson led all scorers with 15 points in the first 20 minutes while Marcus Mathieu chipped in 8 for Seward.
Twice early in the second half, Seward closed to within five, but both times, the pushes were answered with 5-0 Garden City runs to again cushion the Buster lead to double digits. With whistles blowing with regularity, the Saints had a chance to get back into the game at the line, but after missing front ends of one and ones on back to back trips, Seward found themselves in a 13 point hole they would never dig out of. A miss on a long three for Seward turned into a dunk on the other end for the Busters and that was all she wrote for the Saints with 7:29 to go. The end of the game turned ugly with a number of technical fouls blown on both sides and a pair of ejections on the Seward side as Garden City continued to pile up the points on the Saints until mercifully the final horn sounded in a 116-93 win for the Busters.
In his final game as a Saint, Niem Stevenson put on one final show, scoring 34 points to finish his illustrious career with 1,384 points, ranking him fourth in school history behind a trio of Seward Hall of Famers.
Seward ends their season 18-13, falling in the first round of the Region VI Tournament for the first time in 10 years. Garden City marches on at 18-13 where they will take on top seeded Hutchinson Sunday at 1:00 in Park City.