Saints Scorched in Opener
Brock Kappelmann - November 1, 2021 11:18 pm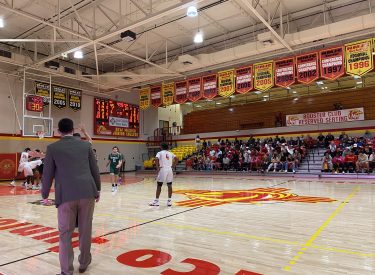 The eighteenth ranked New Mexico Thunderbirds shot 60 percent from the field on their way to a 110-85 win over the Seward County Saints in the opener Monday in Hobbs, New Mexico.  It's the most points the Saints have allowed since Garden City sent Seward packing to end the 2016 season to the tune of 116-93.
Seward showed right offensively in coach Rylee Hernandez's debut.  NMJC led 36-17 with 8:57 to play.  The Saints clawed back to trail 51-42 at halftime.  An Erik Pratt three pointer brought SCCC to within four (65-61). The Thunderbirds reeled off a 26-10 run to lead 91-71.  The Saints trialed by as many as 27.
NMJC made 8-15 three pointers and shot 69 percent from the field in the second half.  Seward shot 43 percent and made 13-33 there  pointers.  Erik Pratt led the Saints with 23.   Bee McCrary scored 15 and Taye Donald scored 15 a piece.
Seward plays at New Mexico Military Tuesday night at 7:30 central time in Roswell.  Saints Shootaround at 7:15 on 1270 and 92.3.