Saints Salvage Split at Hutchinson
Brock Kappelmann - March 21, 2021 8:39 am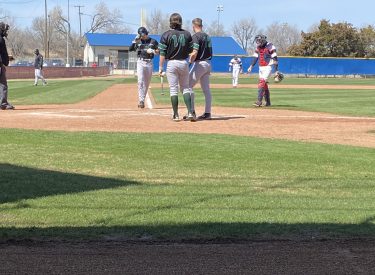 After dropping two games at home on Friday, Seward baseball coach Mike Davidson knew his team faced an uphill battle.  They had to go into Hobart Detter Field and sweep the team picked to win the Jayhawk West just to even the series.  He wanted at least a split to help his team stay afloat in the conference standings.  They were able to get the split winning the first game 11-7 before the Blue Dragons won the second game 7-6 on a walk off.
In the second inning of game one, Cody Bigford walked with the bases loaded and two outs on a  3-2 pitch.  KP Werner ripped a two RBI single to left center for a 3-0 lead in the second.  George Gallardo doubled with two outs in the third.  Richard Armijo singled him home.  Max Garrett added an RBI single for the 5-0 lead in the third.  Hutch scored two in the bottom of the inning against Saints hurler Mason Martinez.  Kase Johnson lifted a two run homer over the left field fence in the fourth and Braden Boisvert hit a mammoth solo shot to left for the 8-2 lead.  Seward added three in the sixth one two walks and an error.  Armijo had an RBI single for an 11-2 lead.  Hutch scored two in the sixth and hit two homers and a triple in the seventh but it wasn't enough.  Mason Martinez struck out nine with three strikeouts and allowed four runs.
Seward took an early lead in game two with a run in the second and a Wyatt Grant homer in the third.  Hutch scored in the bottom of the second to make it 2-1.  Both teams scored in the fourth so it was 3-2 SCCC after four.  Hutchinson scored two in the fifth to lead 4-3.  AJ Folds RBI triple in the eighth tied the game 4-4 before Hutchinson scored two in the eighth to lead 6-4.  Braden Boisvert homered to left to tie the game 6-6 in the ninth.  Hutchinson's walk off single in the bottom of the ninth ended the game.  Braden Boisvert started on the mound and went four innings allowing two earned runs with five strikeouts and three walks.  Cory Didier went 3 and 1/3 with three strikeouts, a walk, and two earned runs.  Dylan Day went 1 and 1/3 allowing one earned run.  Werner and Boisvert had two hits a piece.
Seward is 6-12 overall and 3-5 in the Jayhawk West.  Hutchinson is 11-7 overall and 6-2 in the Jayhawk West.  Seward plays at Clarendon on Tuesday and hosts Colby for their next conference double header Thursday at 1 at Brent Gould Field.  Game one will air on 1270 and kscbnews.net.