Saints Run Away from Sunrise
KSCB News - December 7, 2013 6:48 am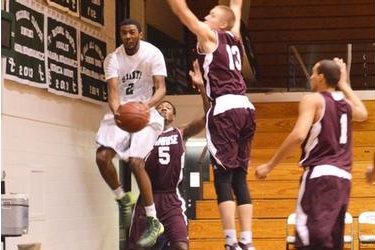 Following a string of tough luck, the Saints came out of the gates strong Saturday, blowout out a talented Sunrise Christian team loaded with Division I talent. Seward jumped out to a 20-11 lead early on in what was a defensive battle to start before opening their lead to 39-22 before the halftime break. The Saints pressure defense caused problems all night for the Buffaloes and the second half was no different as Seward opened up their lead before blowout Sunrise Christian out 80-50.
Seward shot 48% in the game while the Buffs shot just 33% against a suffocating Saints defensive attack. Seward forced 25 Sunrise turnovers and turned it over just 13 times themselves. Brian Bridgeforth led the Saints with a career high 15 points on 6 of 7 shooting while Malcolm Hill-Bey scored 15 as well in the win. Niem Stevenson had 12 for the Saints and Quentin Purtue had 9.
Seward improves to 5-6 on the year while Sunrise drops to 4-4. The Saints will take on another prep school on Saturday at 8:00 on day two of the Pizza Hut Classic as they entertain Kingdom Prep who fell 109-73 to Garden City in afternoon action in the Greenhouse.
SEWARD COUNTY/SUNRISE CHRISTIAN BOX SCORE<http://www.scccsaints.com/index.php?option=com_content&view=article&id=7334:12613-vs-sunrise-christian&catid=58:M%20Basketball&Itemid=175>