Saints Roll to Victory Over Northwest Tech
Brock Kappelmann - January 30, 2020 6:04 am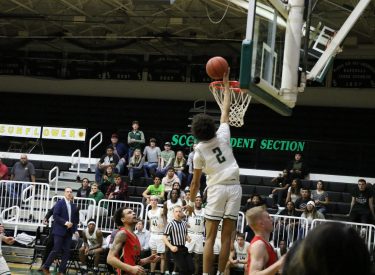 LIBERAL, Kan.- Seward County Community College men's basketball team takes care of Northwest Kansas Technical College 78-53, to improve to a 13-9 overall record and 6-7 in conference play. The Saints outscored the Mavericks 44-26 in the second half to expand their lead to as much as 26 points with three minutes left.
The game saw one tie and that occurred in the first five minutes of play with both teams tied at 5. The Saints connected on three straight threes to start a 13-5 run and lead 25-15. Northwest responded with a 7-2 run to close out the first half and Seward went into halftime with a 34-27 lead. In the first half, the Saints held the Mavericks to just 29% from the field while the Saints shot 39%.
For the first nine minutes in the second half, Seward came out on a 17-7 run to take a 51-37 lead over the Mavericks. Saints defensive intensity made Northwest turn the ball over 35 times in the game and Seward scored 30 points off those turnovers. At the eight-minute mark the Saints once again went on a large 10-0 run to lead 71-45 and held the Mavericks scoreless for four straight minutes. The largest lead happened with 2:18 left in the game as the Saints led 78-50 and decreased possessions by holding the ball until late in the shot clock to claim the home victory.
The Mavericks Ian Hardy had a team-high 11 points and eight rebounds. Joshua Robinson added 10 points and four rebounds in the contest.
Saints were paced by Ramiro Santiago with 14 points and shot 5-9 from the field and 4-7 from behind the three-point line. Seward had three other players in double digits with Surakata Jawara and Samuel Henderson both with 11 points, and Kyle Cardaci's 10 points.
The Saints will be back in the Greenhouse on Saturday to take on Hutchinson Community College at 8 PM.