Saints Roll to 4th Straight Victory
Joe Denoyer - September 1, 2018 11:22 pm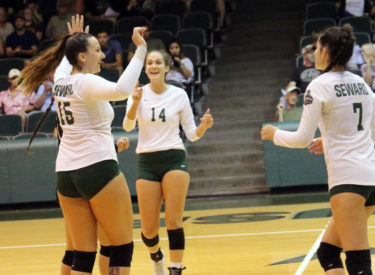 LIBERAL, Kan. – The No. 9 Seward County volleyball (4-2, 2-0) team continued to roll through competition on Saturday, winning their fourth straight match in consecutive sets.  The Lady Saints took down Garden City 25-9, 25-13, 25-14.
Although it started out tight to begin the first set, Seward quickly found their rhythm.  Through the first ten points, the Lady Saints led 6-4 before ending the set in dominating fashion by going on a 19-5 run to hold the Broncbusters to under ten points in the set. In the first set, Djuly Schmorantz finished with five kills, while Giovanna Tapigliani added three.
After running away with set one, the Lady Saints fell behind to start the first set, 5-3.  The deficit did not last long, however, as Luz Sierra jumpstarted a 6-0 run with a kill to put the Lady Saints up four points.  It was all Seward County from that point forward. Following one point for Garden City, the Lady Saints scored the next 13 points to take a 22-6 lead.  Garden City went on a brief offensive attack, but it was too little, too late as the Lady Saints put the set away 25-13 to gain a two-set advantage.
Looking to complete their fourth sweep in a row, the Lady Saints wasted no time, jumping out to an early 8-3 lead to set the tone of the final set. Garden City battled back into the set, cutting the lead to 12-10 midway through the set.  That would be as close as the Broncbusters would get, as the Lady Saints finished the set on a 13-4 run to win the set 25-14 and complete the sweep.
With the win, Seward County has now won 23 straight matches against the Broncbusters and lead the all-time series 32-3.
They Lady Saints were led offensively by Schmorantz and Sierra, both of whom were extremely efficient in their attacks.  Schmorantz finished with a team-high 11 kills off 14 attempts (.786 attack percentage), while Sierra finished with nine kills off 11 attempts (.818 attack percentage).
After sitting out due to illness, Laura De Pra was back in at setter to pace the match for the Lady Saints, finishing with 30 assists as the team finished with a .579 attacking percentage.
Defensively, Nathiellen Machado led Seward with 12 digs.  On the match, eight of the 12 Lady Saints registered a dig.
Seward will be back in action on Wednesday (Sep. 5) when they travel to Hutchinson to take on the Blue Dragons at 5:30 p.m. in the Hutchinson Sports Arena in a rematch of the 2017 Region VI Championship.  The match will be live streamed on the Blue Dragons Sports Network.