Saints Roar Past Tigers
Brock Kappelmann - December 13, 2018 6:11 am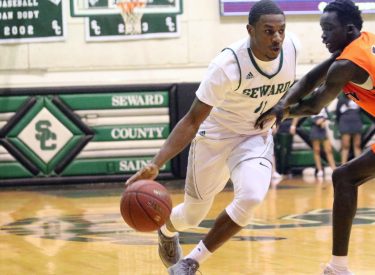 LIBERAL, Kan. – In Isiah Small's first game back from injury, he showed no signs of rust, scoring 19 points and helping push the Saints to hefty victory over the Cowley Tigers, 89-70. The win advances Seward to 8-2 overall and 3-1 in the Jayhawk Conference.
After falling behind early, 4-2, Small went on a 6-0 run by himself to give Seward the lead, one they wouldn't relinquish the rest of the game. Seward's lead quickly turned to double-digits, going up 17-7 with a Marco Morency layup before two more from the charity stripe put them up twelve. The Tigers flirted with a comeback run, but a Morency three before the media timeout stop any thought by the Tigers.
Seward came out of the media timeout with carried over momentum, going on a 10- run to take a 29-14 lead. The Saints used a lethal combination of free throws and three-pointers to take a 44-29 lead into halftime.
The Tigers went on an early run to start the second half, cutting the Seward lead to just 11 points five minutes into the half. Hegel Augustin drove to the basket on the following possession, drawing a foul and make a free throw to start a 10-4 run to give Seward some extra breathing room, 62-45. Another Morency basketball at the media timeout gave Seward a healthy 18-point lead with under ten minutes to play.
Seward slowly pushed their advantage until taking a twenty-point lead, their largest of the day, with a three-pointer from the wing from Morency. With the game in hand, the Saints answered any basket that the Tigers put in, eventually coming away with the win 89-70.
This was the best game for the Saints behind the arc, shooting 52.6 percent (10-for-19). The Saints also shot 45.5 percent (30-for-66) from the floor, while outrebounding the Tigers 44-41. Cowley shot 38.7 percent (24-for-62) from the field, but only 26.3 percent (5-for-19) from deep, while committing 23 turnovers.
Seward was led by Morency's 21 points off 7-of-13 shooting, including going 3-for-4 from deep. Along with Small and Morency, Reggie Miller (13 pts), Devin Bethely (12 pts) and Hegel Augustin (10 pts) each scored in double-digits.
The Saints will host the 3rd-ranked Coffeyville Red Ravens at 8:00 p.m. on Saturday (Dec. 15) to end the semester. Free tickets are available thanks to Billy's Ayr Lanes and can be picked up at Billy's.