Saints Place 3rd at Fiesta Bowl Classic
Brock Kappelmann - December 30, 2019 6:29 am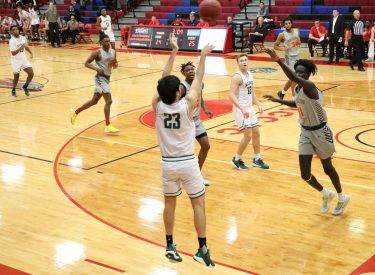 MESA, Ariz. – The Seward County Community College men's basketball team defeated No. 18 New Mexico Junior College, 70-53, on Sunday to finish third at the Fiesta Bowl Junior College Shootout. The Saints won two of three games at the tournament, knocking off two-ranked opponents, improving to 8-5 overall.
Seward used a strong second half to pull away from New Mexico. The Saints went on a 14-4 run to open a 56-40 lead with just under nine minutes remaining. The Saints shot 62.5 percent from the field in the second half and 50 percent for the game.
The teams battled back and forth in the first half with the lead changing seven times and no one holding an advantage larger than six points. The Thunderbirds had a 25-24 lead with 3:45 remaining, but it was their last lead of the entire game.
The Saints ended the half on a 7-0 run with Ramiro Santiago scoring all the points on a pair of three pointers and a free throw. Seward held a 31-25 lead at the break.
To start the second half, the Saints connected on back to back threes by Kyle Cardaci and Branton McCrary to open a 37-25 margin. Seward used the momentum for the remainder of the second half to propel itself to its largest lead of the game at 16 points with 8:59 left when freshman point guard Samuel Henderson hit a layup. With a comfortable advantage in the final 10 minutes, Seward slowed the pace and milked the clock en route to victory.
New Mexico, which fell to 11-3 on the season, was led by Terence Lewis with 18 points and Toug Dol with eight points and nine rebounds.
Seward was paced by Henderson with 15 points and five assists. Other Saints in double- digit scoring were Stephen Takyi with 14 points and Rostyslav Novitskyi and Santiago each with 10 points.
The Saints will head back into conference play at Coffeyville Community College at 4 p.m. on Saturday.